Posted on: October 26, 2023, 09:01h. 
Last updated on: October 26, 2023, 09:01h.
Some 75 Culinary Union members/officials were arrested Wednesday evening after they blocked traffic on Las Vegas Boulevard. It was part of an effort to highlight their current labor dispute with casinos.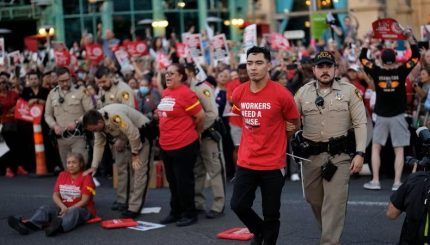 The mostly joyful protestors stopped rush-hour vehicles in both directions for about a half hour near the Paris Las Vegas and Bellagio casinos on the famous thoroughfare.
Initially, the protestors had been picketing and chanting, as well as singing and dancing to tunes provided by a DJ on the sidewalk.
But then, dozens walked into the middle of the road. They formed two circles and sat down on the pavement. They refused to move.
After several minutes, local police began apprehending those taking part in the civil disobedience.
Officers restrained them by placing zip ties on their wrists. They were led on a police bus and later processed.
Other workers cheered as each person was arrested, according to the Las Vegas Sun. The apprehended protestors appeared to cooperate with officers.
Most, if not all, were cited for a relatively minor misdemeanor: assembling to disturb the peace, according to the Associated Press.
The Culinary Union, which organized the protest, said it would pay for the legal fees and any bond for those arrested.
Union Prepared to Strike
Leslie Lilla, a cocktail server at the Bellagio, was among those cited by the police.
You never want to get arrested," Lilla told the Sun. "You always want to be a law-abiding citizen. But our country allows us to peacefully protest, and do disobedient actions to show and prove a point."
Another person arrested was Culinary Union Secretary-Treasurer Ted Pappageorge, according to Las Vegas TV station KLAS. He pointed to the loyalty of his union members.
They are willing to do whatever it takes, including non-violent civil disobedience, they are willing to get arrested to fight for their contract and fight for their families, we think that is something that the public will support," Pappageorge said.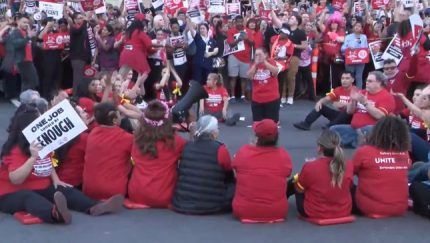 Still another person at the protest was Kimberly Dopler, a cocktail server at the Wynn Las Vegas.
"I'm hoping that the companies will listen to us and realize that we're not joking. We're ready to walk out," Dopler told the AP.
It appears those arrested were mostly shop stewards, the Sun revealed. That means they represent other union members at workplaces.
Las Vegas Metropolitan Police Department (LVMPD) Lt. Mark Lourenco later told local media the event was "peaceful."
The Culinary Union held the rally to show solidarity among its members, and to bring attention to the current impasse in contract negotiations.
Last month, the 60,000-member union overwhelmingly voted to authorize a strike. Some 40,000 of the union members are working without a contract. They want a five-year agreement.
Salary, workload, and job security are among the unresolved issues. The two sides continue to meet this week.
Representatives from MGM Resorts, Caesars Entertainment, and Wynn Resorts didn't release an immediate comment on Wednesday's rally.
Detroit Strike
Across the country, some 3,700 casino workers in Detroit, Mich. continue in their second week of a strike. It's supported by many local politicians.
Some of the striking workers at the MGM Grand Detroit showed up on the Strip on Wednesday to join in the Las Vegas protest, the Las Vegas Review-Journal reported.