Published: August 18, 2023, 11:59h.
Last Updated: August 18, 2023, 11:59h.
Exciting news for sports fans and bettors! The Las Vegas Grand Prix, scheduled for November 16-18, will offer more viewing options. The Palms and Ellis Island casino hotels, although located off the Strip, have prime locations facing the racetrack constructed by Formula 1.
Ellis Island, known for its affordability, is providing various "Turn 4 at Ellis Island Casino" choices at a budget-friendly price range.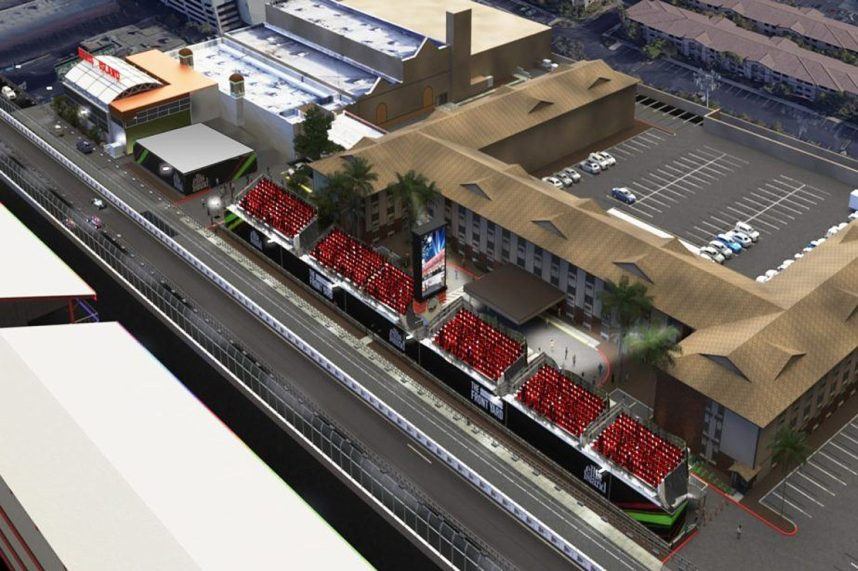 Ellis Island's grandstand seating with food is priced at $1,500 per person (plus additional fees). This reveals that Ellis Island is likely just breaking even due to Formula 1's demands of $1,500 per person from all businesses with a view of the track.
On the other hand, the Palms offers a comparable package called the "Formula For Winning Grandstand" priced at $5,500. This includes tickets, a two-night stay in a Fantasy King room, and a $250 dining credit.
Experience the Ultimate Thrill
The Palms takes it to the next level with its "Formula For Winning Sky Villa Experience." This high-end package costs $75,000 and features tickets, a two-night stay in a Palms Sky Villa, dinner for four at Scotch 80 Prime, and a VIP table at Ghostbar.
If extravagance is your style, the Palms' "777 Experience" will surpass your expectations. For a staggering $777,000, you'll receive six race tickets, two hospitality tickets, a seven-night stay in the Empathy Suite, a separate one-story Sky Villa, dinner for eight at Scotch 80 Prime, and a VIP table with seven bottles of rosé at Ghostbar.
The highly-anticipated race on Saturday, along with its pre-events, is projected to attract around 300,000 Formula 1 fans. According to a study, the average price paid for a three-day package is $6,651 – almost 50% more than the Miami Grand Prix held in May.
For more information or to purchase F1 tickets and packages, visit Ellis Island or the Palms.