Posted on: September 19, 2023, 02:41h. 
Last updated on: September 19, 2023, 02:42h.
Saquon Barkley Injury: New York Giants Running Back Could Miss Upcoming Games Against San Francisco 49ers and Seattle Seahawks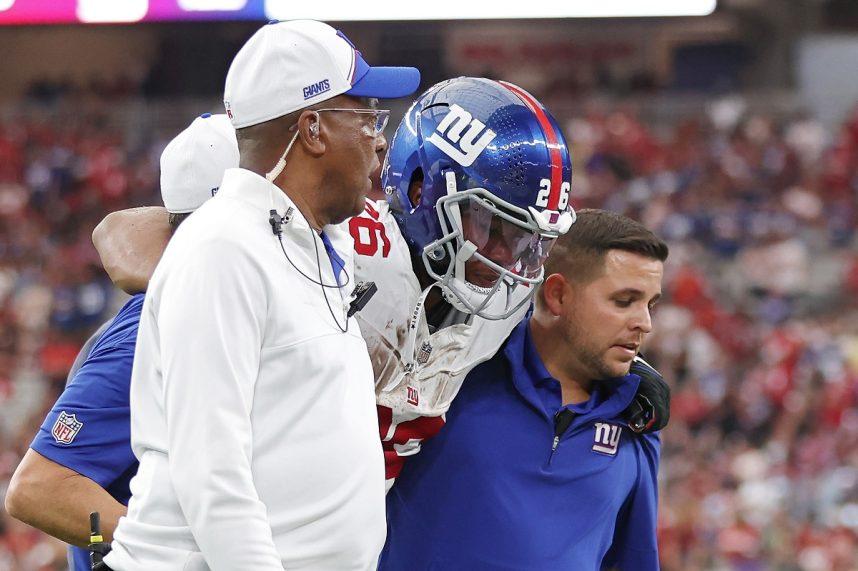 Saquon Barkley of the New York Giants sustained an ankle injury during the game against the Arizona Cardinals on Sunday. It is expected that he will be unable to play in the upcoming matches against the San Francisco 49ers and Seattle Seahawks.
The Giants made an impressive comeback in Week 2, erasing a 21-point deficit to defeat the Cardinals with a score of 31-28. Unfortunately, Barkley injured his ankle in the fourth quarter, hindering his ability to contribute to the team. Initial X-rays were negative, but an MRI later revealed a low ankle sprain, although video replays suggest it could be a high ankle injury.
Barkley had a strong start to the season, accumulating 145 combined yards from scrimmage and scoring two touchdowns in the first two games. However, his injury history, including previous high ankle sprains in 2019 and 2021, raises concerns about his availability and performance going forward.
In Barkley's absence, the Giants will turn to veteran Matt Breida as the primary running back. Breida has previous experience as the backup and has rushed for over 2,500 yards and scored eight touchdowns in his career. The team also has Gary Brightwell and rookie Eric Gray on their roster as potential options.
Looking ahead, the Giants face a tough challenge against the San Francisco 49ers on Thursday Night Football in Week 3. Currently listed as +10 underdogs, the Giants will need to step up without Barkley's presence on the field. The team's performance this season will have an impact on their odds to win the NFC East and potentially make the playoffs.
Despite their previous playoff appearance, the Giants face an uphill battle in a highly competitive division. With odds of +2500 to win the NFC East and +7500 to win the Super Bowl, they are considered long shots in the betting market. The team's win total for the season is set at 6.5 victories, and according to a prop bet, they are favored to miss the playoffs.
Fans are hopeful for Barkley's return in Week 4, but his availability remains uncertain. If he is unable to play, the Giants will face the Seattle Seahawks on Monday Night Football, followed by a matchup against the Buffalo Bills in Week 6.