Posted on: August 4, 2023, 12:20h. 
Last updated on: August 4, 2023, 12:20h.
The University of Arizona may join Colorado in the Big 12 conference, leading to a potential exodus of Pac-12 schools looking to make the move.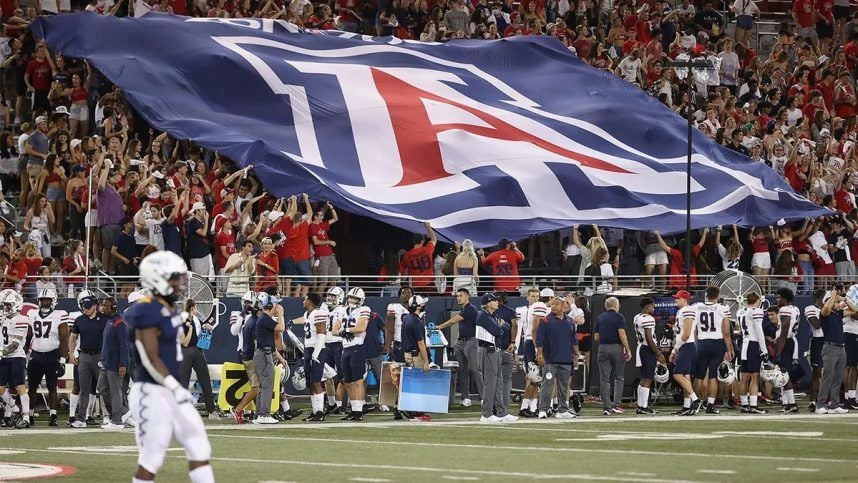 A pair of super conferences, known as the Power 2, have emerged as a result of the SEC and Big Ten's aggressive expansion efforts.
Following the departure of Texas and Oklahoma, who will join the SEC in 2024, the Big 12 has been actively seeking expansion. Cincinnati, Houston, BYU, and UCF have already joined the conference, bringing the total number of teams to 14.
The Big 12 has successfully recruited Colorado from the Pac-12 and is now targeting teams from Arizona, Arizona State, and Utah to maintain a 14-team conference.
The Pac-12 is facing challenges after USC and UCLA decided to leave for the Big Ten. The conference's current deal expires soon and the proposed Apple+ streaming deal is not as financially lucrative as other conferences' arrangements.
The Big Ten is also eyeing expansion, with Washington, Oregon, Stanford, and Cal Berkeley being potential targets from the Pac-12.
In an effort to prevent further departures, the Pac-12 is exploring a partnership with the ACC while the ACC itself is facing possible shakeups as schools look to join the SEC for better television deals.
Amidst all this, the Big 12 Championship Game odds favor Texas, Oklahoma, and Kansas State, with Texas having the highest chances of winning. Iowa State is considered a long shot due to the absence of their starting quarterback, Hunter Dekkers.
As the landscape of college football continues to shift, it remains to be seen how these conferences will adapt and evolve.