Posted on: April 20, 2023, 11:01h. 
Last updated on: April 20, 2023, 03:16h.
The East Coast Gaming Congress wraps up Thursday in Atlantic City, and while a slew of issues have been discussed during the two-day event at the Hard Rock Hotel & Casino, a nearby billboard has caused a bit of a stir.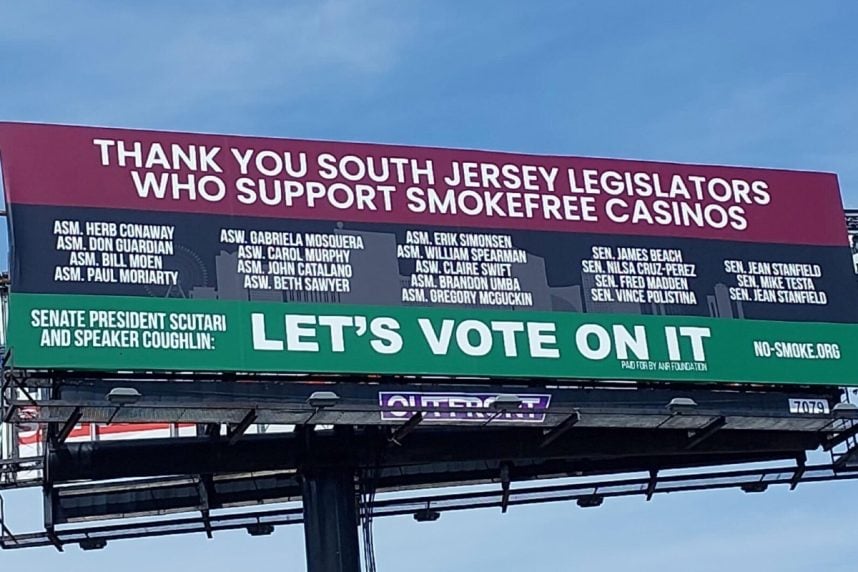 A new wrap on a billboard along the Atlantic City Expressway just outside of the casino town went up before the 2023 ECGC. The billboard displays an anti-casino smoking message that thanks South Jersey state lawmakers supporting a full ban on tobacco use inside the nine casinos.
The billboard requests that New Jersey Senate President Nicholas Scutari (D-Middlesex, Somerset, Union) and Speaker Craig Coughlin (D-Middlesex) allow the state legislature to vote on bills seeking to close the casino smoking loophole.
Senate Bill 264 and Assembly Bill 2151 are identical pieces of legislation that would terminate the casinos' exemption from the state's 2006 clean indoor air law. The measures have enough support among state lawmakers to send the statutes to Gov. Phil Murphy's (D) desk.
The governor has stated that he would sign a bill ending casino smoking. But Democratic leaders in Trenton are reportedly mothballing the legislative efforts until after this November's election when all 120 New Jersey General Assembly and Senate seats are on the ballot.
Smoke-Free Advocacy
Americans paid for the anti-casino smoking billboard for Nonsmokers' Rights (ANR), a California-based advocacy group working to assure that all public places have clean indoor air. The ANR is working in Atlantic City with a grassroots coalition called CEASE, Casino Employees Against Smoking Effects.
Many Atlantic City casino workers have told state lawmakers they are tired of working in smoke-filled environments. During an Assembly committee hearing on the smoking topic last month, several casino employees testified that secondhand smoke has negatively impacted their health.
Table game dealer Holly Diebler's testimony resonated with many, as the Tropicana employee says she's undergoing chemotherapy for throat cancer.
"I love my job. I don't want to leave. But my oncologists are telling me this is a life-and-death choice," Diebler told the Assembly Health and Tourism, Gaming, and the Arts committees.
'Let's Vote' on Casino Smoke
The ANR billboard asks the Democratic leadership to allow a vote on the anti-smoking bills sooner than later.
Thousands of Atlantic City casino workers deserve a vote now to protect their health, and they are waiting for Senate President Scutari and Speaker Coughlin to hold that vote as soon as possible," Cynthia Hallett, president and CEO of ANR, said in a release.
Hallett added that there's no logical explanation for continuing to delay the bills that would pass easily if a vote on either statute were held today.
The casinos generally oppose a full smoking ban. The Casino Association of New Jersey, which lobbies in Trenton on behalf of the nine resorts, claims annual gaming revenue would be cut by about 25% with no smoking. The group says those financial losses would result in drastic layoffs.
Despite robust 2022 brick-and-mortar gross gaming revenue of $2.78 billion, the nine casinos said their profits dropped nearly 5% last year because of high overhead.