In today's Asia-Pacific Expert Insights series, gaming expert and Ph.D. Sudhir Kalé looks at a common policy among gaming operators in this region: that of forbidding their casino employees from playing in their own house — and sometimes at all.
Should casino workers — those on the frontlines of the gaming industry who witness firsthand how players both win and lose massive amounts of money — be allowed to gamble themselves in their off-work hours? And what about in their own venues?
Especially in the wake of COVID-19's devastating global impact on the gaming industry, will operators need to rethink this bent? Our expert explains his unorthodox view, which is based on his own extensive industry research that bore out surprising results.
---
Several operators in the Asia-Pacific arena ban casino employees from gambling in their own casinos. The intent is to prevent any potential for — or appearance of — fraud among casino staff.
Stay Away or Else
Some jurisdictions, including Singapore and Macau, have banned casino employees from even entering casinos and from gambling during their non-working hours entirely. In Singapore, no licensed casino employee can gamble in either of the city's two integrated resorts, Marina Bay Sands and Resorts World Sentosa. [Editor's Note: According to Marina Bay Sands' website, as of now, the casino resort " … will limit public access to the casino from 23:59 hours on 26 March 2020. Other operations … have been suspended temporarily, [including] Avenue, Sands Theatre, MARQUEE, Spectra and the bars within the restaurants …" Resorts World Sentosa has a similar COVID-19 policy in place]
Employee behavior in these jurisdictions is monitored via social safeguarding systems and entry checks. And the repurcussions are punitive: if found gambling, casino workers in Singapore will lose their gaming licenses.
Macau put a ban on gambling among casino employees through a legislative order that came into effect back in December 2018. The legislation covers all workers in the sector and provides for administrative sanctions ranging from one thousand to ten thousand patacas [approximately US$125 to $1250].
Some 54,000 Macau residents who also happen to be casino employees are impacted by this legislation. According to Macau Business, Lionel Leong — former Secretary for Economy and Finance — has pointed out that croupiers and workers in the [gaming] sector constitute "the highest percentage" among individuals affected by gambling addiction disorder in recent years.
The honorable secretary provided no data to back his comments, however, and his logic was probably influenced by the oft-cited argument that increased exposure translates into heightened risk of problem and pathological gambling. Since casino employees are more exposed to gambling product than any other group, the reasoning goes, they are most likely to develop problems and should therefore be protected.
Exposure Hypothesis
This "exposure hypothesis" has been the cornerstone of arguments made by gambling opponents all over the world. Increased access and exposure to gambling will lead to increased gambling participation and higher incidences of problem and pathological gambling is the theory.
But based on research evidence, this hypothesis portrays an incomplete and short-term perspective of the antecedents of gambling prevalence and addiction—at least in cultures like Macau's.
The etiology of gambling also involves another hypothesis to explain participation and addiction.
Termed the "adaptation hypothesis," it accepts the possibility that increased exposure can lead to increased participation and addiction, but suggests that greater prevalence may be only transient as individuals and societies will adapt to the risks present in the new environment and eventually there will be a levelling-off or reversal of any initial impact.
This adaptation might only take years, rather than decades. In essence, the adaptation hypothesis suggests that with continued exposure, people develop immunity to the lure of gambling and are therefore at a lesser risk of becoming problem gamblers.
Minimal Research
There isn't much scientific research when it comes to studies investigating gambling among casino employees. To fill this void, two of my colleagues — Zhonglu Zeng and David Forrest — and I decided to examine the gambling behaviors of Macau casino employees compared to the general population of Macau who were not gaming workers.
The study was recently published in the Journal of Gambling Studies, the top research journal for studies on responsible gambling. Fortunately, we collected all data just before the Macau government's ban on gambling for casino employees came into effect in 2018.
We looked at frequency, average duration of each gambling session, and the maximum bet size for casino employees, as well as for more regular Joe gamblers. Each of these variables is a surrogate for problem gambling. Each group was asked to state how often they gambled, for how long each time, and the maximum they would bet currently (within the past twelve months) and compared to the time they first started gambling.
If the exposure hypothesis were right, there should be a marked increase in people's gambling frequency, duration of play, and average bet size among both casino employees and non-employees — as access to casino gambling has increased significantly in Macau over the last fifteen years.
Also, since those who work in gaming experience greater exposure to casino gambling than those who do not, casino employees would be expected to gamble more often, for longer duration each visit, and to place higher bets compared to civilian gamblers.
However, our findings did not support this argument.
Surprising Results
The results of our study instead suggest that indicators of heavy gambling involvement among casino employees were no higher than among other residents of Macau.
In terms of gambling frequency, casino employees actually played less often than the general adult population in China's gaming mecca.
Interestingly, while both casino employees, as well as non-employees, in Macau have been more exposed to casino gambling over the last decade and a half, overall gambling participation for both groups has steadily declined.
And support for the adaptation hypothesis when it comes to casino gambling is not unique to Macau, either. According to Marina Bay Sands CEO George Tanasijevich, since the Singaporean integrated resorts first opened, not only has the proportion of the population that's eligible to gamble decreased, but the rate of problem gambling has also declined [from 2.6 percent in 2011 to 0.9 percent in 2017].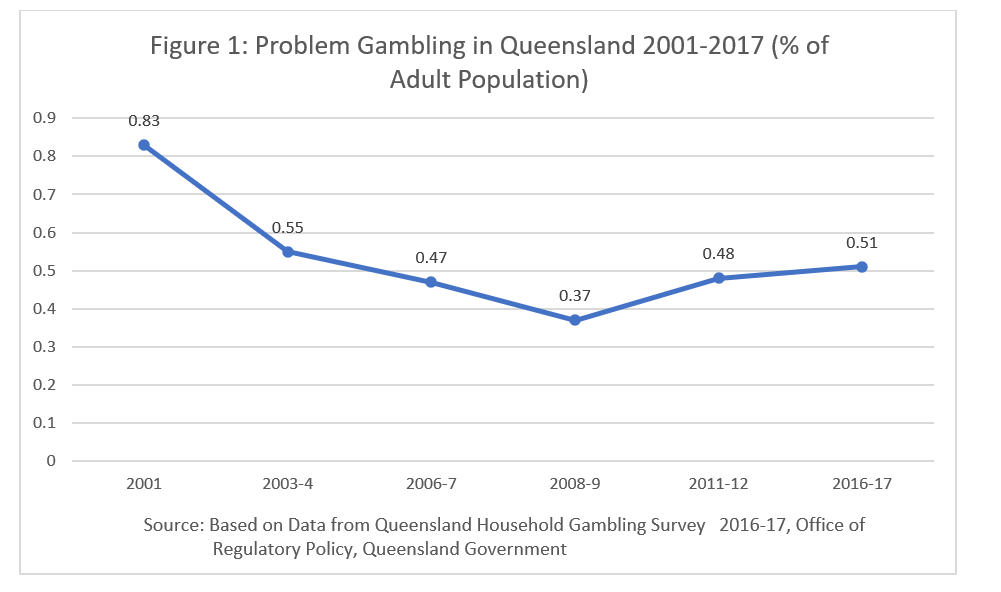 In Australia, the average amount a gambler loses on pokies (aka slot machines) has declined almost every year since 2004. This decline has been accompanied by a general drop in problem gambling prevalence in states such as Queensland which, over this same period, actually witnessed an increase in gambling access (See Figure 1).
Exposing the Problem
Evidence continues to mount that when it comes to the link between access and problem gambling, addiction rates actually drop with increased exposure to the gambling product. My study — co-authored with two eminent researchers in the field of responsible gambling — indicates that casino employees are actually at lesser risk of becoming problem gamblers than the general population.
If that's the case, why ban casino employees from gambling in their own gaming venues?
I would argue that occasional casino gambling among employees would make them more empathetic to their customers. Otherwise, employees have no basis to empathize with losing (or winning) customers if they have never been in these situations themselves.
At a time when casinos in Macau — and elsewhere in the Asia-Pacific region — may be really struggling to get customers through their doors in the wake of COVID-19's devastation on so many fronts, Macau's casino employee base of 54,000 locals, if allowed to gamble, could help alleviate casinos' woes, however slightly.
Perhaps more importantly, once the coronavirus threat has dissipated and business starts to slowly return to a more regular rhythm, the increased empathy employees would generate toward customers could go a long way in establishing a rapport and reestablishing all-important customer loyalty.
Of course, given the conflicting arguments on the link between access and addiction, each gaming jurisdiction should carry out its own research to ascertain what the facts are and create their own policies to best reflect those realities.
---
SudhirH. Kalé, Ph.D., is a renowned gaming scholar who has studied gambling from all perspectives. He has published more than one hundred articles on casino gambling in research journals as well as trade publications. Sudhir's firm—GamePlan Consultants—has advised gaming clients on five continents. You can write to Sudhir at sudhir.kale@casino.org