Published: September 5, 2023, 03:49h. 
Last updated: September 5, 2023, 03:49h.
In Las Vegas, tragedy struck when a 13-year-old boy drowned while inner-tubing with friends on flooded waters. The incident occurred just days after the boy's birthday.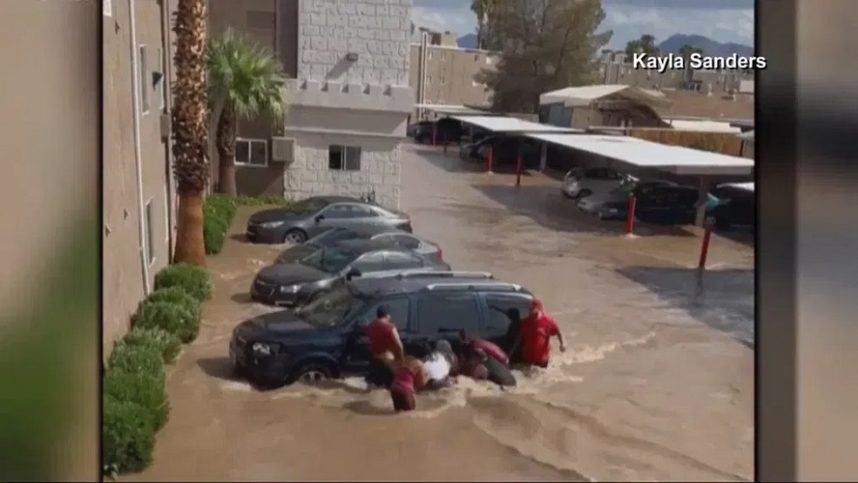 The boy, named Ryan Taylor, was found injured and submerged in water near Boulder Highway. Thanks to the efforts of Good Samaritans, including John Cruz, Taylor was rescued from beneath an SUV where he was trapped.
Taylor was immediately taken to Sunrise Hospital and Medical Center for treatment, but tragically, he passed away the following morning. The official cause of death determined by the Clark County Coroner's office was accidental drowning.
Eyewitness Testimony
According to eyewitness Jennifer Webb, Ryan had been enjoying himself in the water with other children before the incident took a turn for the worse.
"He was having a great time, waving at everybody, and then he went around that curve over there, and it was like a gully," Webb told Las Vegas TV station KSNV.
John Cruz, who was present at the scene, shared his harrowing experience: "It was really terrifying. I didn't understand what was happening at first, but I pushed through the strong current and helped rescue the boy."
Taylor's father, Mathew Taylor, released a statement over the Labor Day weekend cautioning against the dangers of playing in floodwaters.
"Floodwaters are not a joke or to be played with," he emphasized.
He expressed his gratitude to the brave individuals who assisted in rescuing his son and thanked the first responders for their efforts.
Ryan's mother, Irene Reynaga, shared the heartbreaking news that her son had no heartbeat when paramedics arrived at the scene.
She added, "Despite all prayers and efforts, he sadly passed away at 2:30 am on Sunday."
Mathew Taylor expressed the unimaginable pain of losing a child and highlighted Ryan's role as an older brother and a beloved friend to many. In an effort to cover expenses, the family has created a GoFundMe page that has already surpassed its initial goal of $5,000, reaching $7,205 as of Tuesday.
"Ryan was an amazing kid with a big heart and a helpful nature," the GoFundMe page stated.
Second Drowning Incident
In a separate incident over the weekend, the lifeless body of an unnamed victim was discovered near Rainbow Boulevard by the Las Vegas Fire and Rescue crews.
Reports indicate that the victim drowned during stormy weather the night before and was swept away by strong currents before coming to rest among debris.
During the height of the storm, Las Vegas firefighters conducted multiple rescues of stranded pedestrians and assisted in rescuing approximately 30-35 vehicles stranded in high water.