Posted on: August 15, 2023, 12:20h. 
Last updated on: August 15, 2023, 12:20h.
The man accused of holding a victim hostage in a Caesars Palace Las Vegas hotel room and tossing furnishings out of a window will plead guilty to reduced charges, according to the defendant's attorney, the Las Vegas Review Journal reported.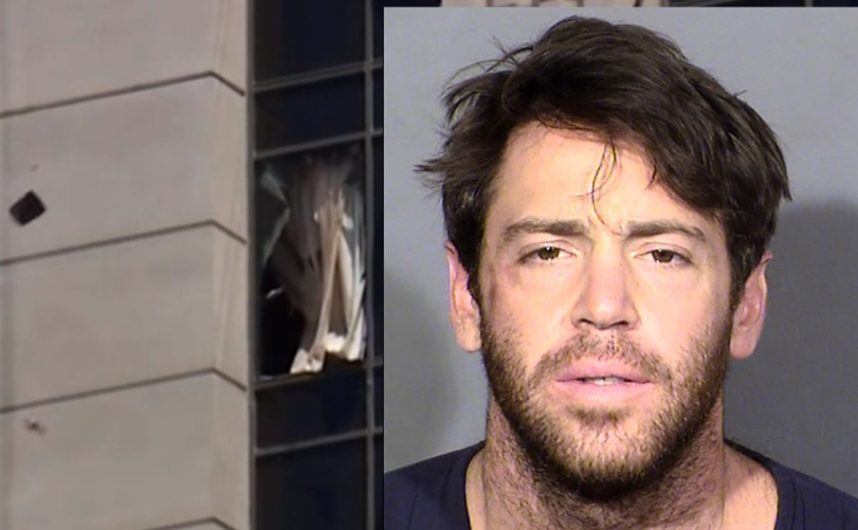 The accused, Matthew Mannix, 35, will also pay $55,292 in restitution to the hotel for the July 11 incident, the lawyer, David Roger of Las Vegas, recently said in court.
On Wednesday, Mannix likely will plead guilty to malicious destruction of property and reckless endangerment, according to the Review Journal.
Initially, he was charged with first-degree kidnapping, coercion with a deadly weapon, destruction of property, and disregarding the safety of persons or property.
He allegedly threatened to shoot police officers, as well as threatened to cut out the tongue of the hostage during the standoff.
Mannix also allegedly smoked methamphetamine (meth) while in the 21st floor hotel room.
He also has charges pending from Colorado.
Man Faces Life in Prison
A California defendant was convicted of murder on Monday after killing his partner in an online casino operation. He now faces 50 years to life in prison.
A Kern County jury convicted Lucifer Darnell Pierce, 41, of first-degree murder after a trial, according to California TV station KBAK. Pierce is scheduled to be sentenced on September 12.
The victim, Mubarek Alnajar, was suspected of stealing money from the gambling business. Pierce, angry over the theft, shot him on January 13, 2021 in South Bakersfield, Calif.
Pierce met Alnajar in the victim's car. He confronted him about the missing money.
Then, he shot him in the face with a 9mm handgun, police said.
Several days later, police arrested him. He allegedly resisted when officers tried to place him into custody.
In 2007, Pierce was acquitted of first-degree murder in the 1999 death of Leslie Ahart, 32.
He was convicted and sent to prison on other California counts, the report said. He was on parole at the time of the Alnajar murder.
Not content to cease his violent ways, Lucifer Pierce took a life shortly after being released from prison. This conviction should result in a life sentence that will ensure decades in prison before Pierce is even considered for parole eligibility," Kern County District Attorney Cynthia Zimmer said in a statement.
Boomtown Hotel Standoff in Reno
An intruder refused to leave a hotel room at Reno's Boomtown Hotel and Casino for about three hours on Monday.
The unnamed suspect eventually gave himself up after police officers negotiated with him, according to Reno, Nev. TV station KOLO.
He apparently scaled the hotel building and made his way to several balconies until he went inside one of the rooms, Reno TV station KTVN reported.
He was being held at the Washoe County Jail later on Monday. He faces four counts of assault with a deadly weapon and a count of home invasion.
During the standoff, he allegedly threatened hotel security guards. No one was apparently injured during the incident.
Reno officers were notified about the situation at about 8:50 a.m.
The motive behind the invasion was unclear as of Monday, KOLO reported.
Caesars Palace Sidewalk Shooting Over Beer
It turns out the July 30 shooting of a man outside of Caesars Palace Las Vegas was due to a dispute over a beer.
The two men were at a bus stop outside of the gaming property when they began to argue, according to the Las Vegas Review Journal.
The victim was treated at University Medical Center.
He was shot in an arm. The bullet wound up in his abdomen. Bullet fragments cannot be removed and will remain inside the victim, the Review Journal reported.
Dwayne Brown, 31, was identified as the suspect. On August 5, Brown was stopped by officers at a convenience store near Flamingo Road and Arville Street.
He got into a struggle with officers before he was apprehended, police said. He was carrying a silver revolver when he was arrested.
Brown was charged with attempted murder, battery with a deadly weapon, carrying a concealed weapon with a permit, and discharging a firearm in a populated area, the Review Journal reported.