Published: August 30, 2023, 04:25h. 
Updated: August 30, 2023, 04:25h.
The highly anticipated opening of the Peter Luger steakhouse at Caesars Palace Las Vegas has been confirmed for Wednesday, November 1st.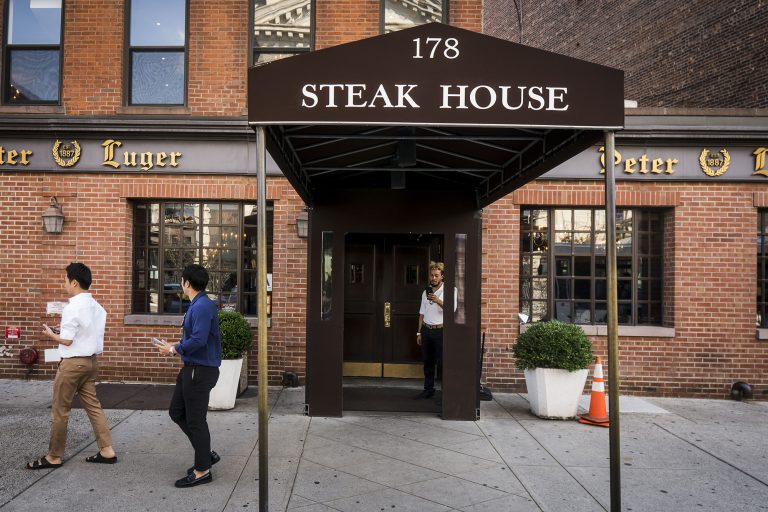 Caesars Entertainment and Peter Luger announced the opening of the Las Vegas location back in January 2022. Originally set to open by the end of the year, the renowned steakhouse will finally welcome guests on the Las Vegas Strip alongside its establishments in Brooklyn, Long Island, and Tokyo.
The new Peter Luger Steak House Las Vegas, designed by Jeffrey Beers International, will pay homage to its Brooklyn roots. With exposed brick, wood paneling, oak floors and tabletops, and industrial windows, the 8,700 square-foot restaurant will accommodate over 300 diners in its main dining room, large central bar, and private dining options.
The Caesars Palace location will operate from Wednesday to Sunday, from 11 a.m. to 10 p.m., and Monday and Tuesday, from 5 to 10 p.m.
Peter Luger Caesars Palace Sets Itself Apart
Peter Luger's Caesars Palace venue will offer unique features not found in its New York counterparts.
Firstly, the Strip location can accommodate more than 300 guests, a significant increase compared to the 60 to 65 guests its New York restaurants can serve. Additionally, unlike the New York locations which only accept cash, debit cards, house accounts, and personal checks, the Caesars establishment will accept credit cards as well.
These additional payment options are noteworthy considering that dining at Peter Luger is known to be a luxurious experience, where an average dinner for two can cost anywhere from $200 to $300 or more, depending on the beverage and side dish selections. The Las Vegas location will offer various amenities, including a display kitchen where guests can watch the chefs prepare the signature dishes of Peter Luger's.
Peter Luger: Simplicity at its Best
Distinct from other high-end steakhouses, including those found within Las Vegas casinos, the Peter Luger menu is famously known for its simplicity.
"Regulars often order the Steak for One, Two, Three, or Four without ever looking at a menu. The restaurant also offers Rib Steak for One or Two, seafood options, and a variety of renowned appetizers, salads, and sides," according to the statement.
The menu's crown jewel is the Steak for Two, a massive porterhouse that has gained significant recognition. Additionally, the Caesars Palace location will feature a chilled shellfish tower, a unique offering not found in any of the New York venues.