Posted on: July 10, 2023, 02:16h. 
Last updated on: July 10, 2023, 02:16h.
Speculation is swirling that Blackstone's (NYSE: BX) Blackstone Real Estate Income Trust (BREIT) could sell the real estate of Bellagio on the Las Vegas Strip.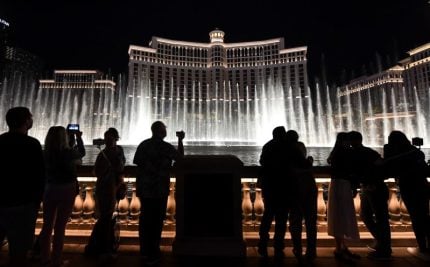 One analyst believes that if the real estate investment trust (REIT) proceeds down that path, there will be plenty of willing buyers, potentially lifting casino stocks along the way. In new note to clients, CBRE Research analyst John DeCree said Bellagio's property assets won't be short of suitors should BREIT put the venue on the market.
Bellagio sale could be positive for valuation signal. Given the iconic nature of Bellagio, we suspect any real estate investor with the financial means would likely be at the table, even for a minority stake in the asset," noted the analyst. "In fact, a partial sale could appeal to a broader set of interested buyers, considering the potential price tag."
Rumors emerged late last month that BREIT is mulling the sale of a 50% stake in Bellagio. Those reports followed two April articles by Casino.org indicating BREIT could consider the sale of the famed Strip venue to meet increasing redemption requests.
Bellagio Property Highly Desirable
BREIT acquired the property assets of Bellagio from MGM Resorts International (NYSE: MGM) in November 2019 for $4.25 billion, and proceeded to lease back the venue to the casino operator. MGM maintained a stake of 5% in the real estate.
The price BREIT paid in November 2019 implied a cap rate of 5.8%, but DeCree believes the REIT could fetch a similar valuation at a cap rate of 6.1% today. Commercial real estate investors rely on cap rates to measure potential returns on a property and its risks. Those rates typically range from 3% to 20%.
"In spite of tight credit markets and higher rates, casino real estate cap rates have held up very well," DeCree added. "We wouldn't be surprised if Bellagio commanded a similar cap rate to 2019, given the strong fundamental backdrop in Las Vegas and the solid performance at Bellagio specifically, the significant replacement value of Strip resorts, and the scarcity of assets of this nature."
The analyst believes that if BREIT proceeds with a sale of Bellagio's real estate, it will do so in partial fashion. A full sale would likely require a buyer to come up with at least $5 billion. That'd be no small feat at a time when banks are reluctant to lend for large-scale commercial real estate projects.
Bellagio Sale Could Benefit Strip Operators
DeCree also observed that even a partial sale of Bellagio's property could be a boon for Strip operators that currently own significant real estate, including Caesars Entertainment (NASDAQ: CZR) and Wynn Resorts (NASDAQ: WYNN).
While Caesars doesn't own the land of Caesars Palace, it does own most of the other real estate on the Strip on which it operates casinos. Entering 2022, it was widely believed the company would sell one of its Las Vegas venues to raise cash to reduce debt, but that transaction didn't materialize. It's unlikely such a deal will happen this year, either, but the longer Caesars holds onto Sin City land, the more it potentially appreciates in price.
DeCree also noted that VICI Properties (NYSE: VICI), the largest landlord on the Strip, would benefit from Bellagio changing hands even if it's not involved in the transaction because the sale would serve as a reminder regarding the value of Las Vegas gaming real estate.