Posted on: September 6, 2023, 06:40h. 

Last updated on: September 6, 2023, 06:40h.

Poker fans in Mexico have been advocating for the recognition of poker as a certified sport, and Codere is taking steps to support their cause. The Spain-based gaming operator has officially opened its first dedicated poker room in Mexico and has plans for more in the future.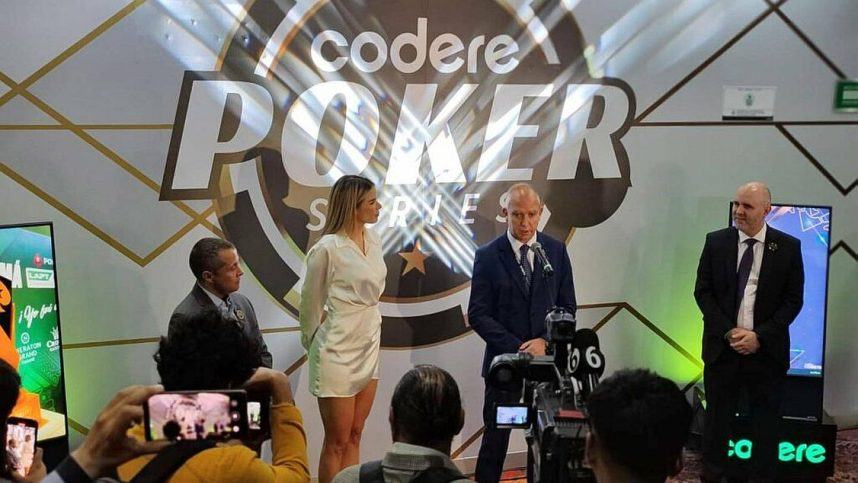 Codere has launched its first poker room at the Codere Meneo casino in Mexico City, with plans for more facilities on the horizon. The company has also introduced the Codere Poker Series brand, aiming to enhance the entertainment experience for poker players in the country.
During the inaugural event of the poker space, Codere Director of Operations Francisco Vidal Caamaño emphasized the company's commitment to innovation and the speedy implementation of this initiative. The introduction of the Codere Poker Series brand is a significant milestone for the game in Mexico.
Let the Chips Fly
The newly opened Codere Meneo Poker room is a haven for poker enthusiasts. It boasts 10 professional tables, including one specifically designed for live broadcasts, as well as private gaming areas.
The cash games offered include popular options like No-Limit Hold'em and Pot-Limit Omaha. There are also multiple betting levels, ranging from MXN$5/$10 to MXN$25/$50 (US$0.29/0.57 to $1.43/$2.86), and special games with higher stakes.
The poker room opens at 4 PM and closes at 1:30 AM on weekdays, with extended hours until 2:30 AM on Fridays and Saturdays.
The goal is to provide players with a complete experience, including cash games, festivals, and tournaments. With a presence in 25 states and over 85 casinos in Mexico, Codere is positioned as a leader in the industry.
According to Codere Regional Director of Live Gaming for LatAm Marcelo Silva's interview with Spanish-language poker news site Codigo Poker, several more poker rooms are already under construction, suggesting further expansion in the future.
In addition to Mexico, Codere, which has previously organized poker tournaments throughout Latin America, operates in six other countries. If all goes well, it is possible that all Codere properties could eventually host dedicated poker rooms.
Supporting its expansion efforts is the Codere Poker Series brand. The company states that this new brand reaffirms its commitment to offering a diverse and enriching entertainment experience for its customers.
Codere is confident that adhering to international poker standards and rules will enable it to establish itself as a recognized participant in the poker ecosystem.
Codere Continues to Evolve
Codere has undergone significant changes in recent years, including a takeover by creditors and shareholders, as well as the spin-off of its online gaming arm, Codere Online.
Despite facing challenges in the LatAm market, Codere reported operating revenue of €335 million (US$359.35 million) for the second quarter, a 5% increase compared to the previous year.
Despite temporary closures of gaming properties in Argentina and Mexico due to "non-compliance" issues, Codere's revenue from the Mexican market still saw a growth of over 14% compared to the previous year. Argentina experienced a 12% decline in revenue from the 2022 second-quarter results.