Posted on: August 21, 2023, 01:20h.
Last updated on: August 21, 2023, 01:20h.
The historic Oakland A's baseball team has taken a significant step towards the relocation to Las Vegas with the hiring of Mortenson-McCarthy, the renowned construction manager. The announcement comes in the wake of a partnership between the Minneapolis-based Mortenson and national builder McCarthy Building Companies. Notably, this joint venture was responsible for constructing the Allegiant Stadium for the Las Vegas Raiders in 2020.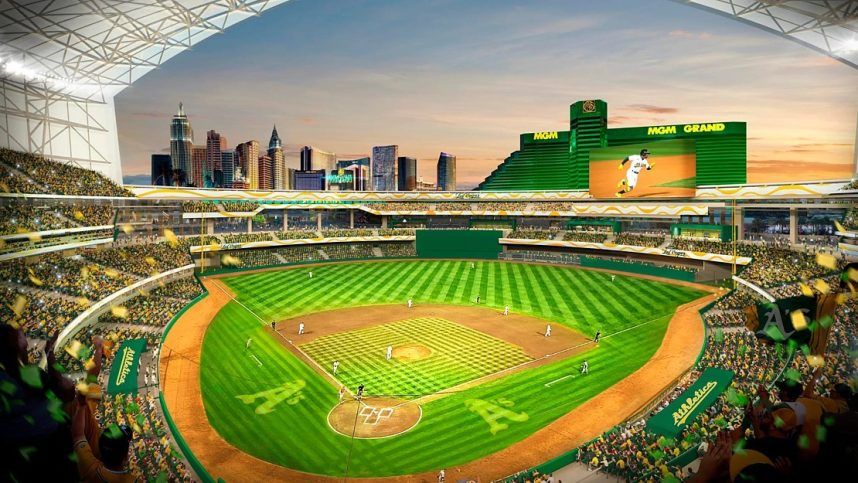 This new venture rekindles excitement as the two companies have already showcased their capabilities in the region by successfully delivering the grand Allegiant Stadium project. With its remarkable construction timeline and exemplary workforce diversity achievements, including surpassing goals for local, small, and women and minority-owned businesses, the renowned builder McCarthy is set to replicate its unprecedented success.
Mortenson, on the other hand, is credited with building numerous iconic sports venues, including Truist Park for the Atlanta Braves, Target Field for the Minnesota Twins, U.S. Bank Stadium for the Minnesota Vikings, Chase Center for the Golden State Warriors, and the Climate Pledge Arena for the Seattle Kraken. Their expertise and track record in delivering world-class stadiums make them the perfect candidate for the A's new home in Las Vegas.
Awaiting approval from the Las Vegas Stadium Authority, the Athletics are eager to finalize this agreement. The next board meeting, scheduled for Thursday, August 24, will determine the fate of this milestone in A's history. However, before construction can begin, the MLB must endorse the relocation plan, and the Tropicana facility will need to be demolished.
Should all obstacles be overcome, Las Vegas will become the fourth home for the storied Athletics franchise. Previously, the team was based in Philadelphia from 1901 to 1954, followed by a stint in Kansas City from 1955 to 1967, before settling in their current home in Oakland since 1968.