Posted on: August 2, 2023, 11:51h. 
Last updated on: August 2, 2023, 11:51h.
A North Carolina community being targeted for a casino resort through state legislation came out in droves this week to oppose such legislative efforts.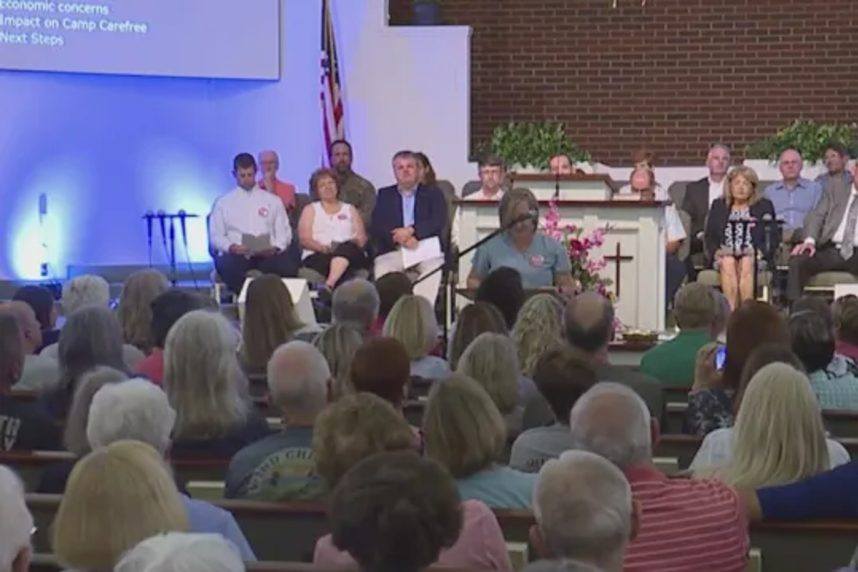 Rockingham County is one of three counties that would be designated as a permittable host county for a commercial casino undertaking should a draft bill being worked on by North Carolina Senate Pro Tempore Phil Berger (R-Rockingham) become law. Berger has hinted at soon introducing the statute or including the measure in the General Assembly's forthcoming budget bill.
Berger believes North Carolina should legalize commercial casinos to keep gaming money from flowing out of the state to casinos in neighboring Virginia. A casino in his home county, Berger believes, could also generate nearly 1,750 new jobs.
But during a town hall last night in Madison at the Ellisboro Baptist Church, throngs of Rockingham residents came out to voice their opposition to the casino push.
Casinos are monuments honoring the exploitation of the poor," said one attendee.
"We didn't ask for a casino," said another. "We're asking folks to respect what's going on in our neighborhood."
Casino Rumors
An entity called NC Development Holdings, an LLC linked to Baltimore-based Cordish Companies, which operates Live!-branded casinos in Maryland and Pennsylvania, petitioned the Rockingham County Planning Board last month to rezone 193 acres of farmland located along US 220 north of Carefree Lane for commercial use.
Cordish hasn't detailed what it hopes to build there, but the word around town is Berger's bill will qualify only one casino operator to build the three casinos. And Cordish is said to be the front-runner for the exclusive development rights.
Cordish officials have made numerous campaign contributions to Berger and several other state lawmakers, most of whom have expressed support for the liberalization of commercial casinos. Along with its casinos, Cordish's Live! brand has retail shopping, dining, and entertainment districts in numerous states. But the hospitality giant currently has no assets in North Carolina.
What bothers me is the lack of transparency," said Mark Walker, a former congressman who represented North Carolina in the US House.
Walker, also a Republican, is mounting a gubernatorial campaign in hopes of ousting Democratic Gov. Roy Cooper. Walker lives in Greensboro, a city within Guilford County, which is directly south of Rockingham.
Of the estimated crowd of 500 in attendance at last night's town hall, all but one comment was in opposition to allowing a casino to come to Rockingham. The lone supporter was local Stephen James, a self-described professional poker player.
James pointed to the economic benefits that the two Harrah's tribal casinos in the southwestern part of the state have created for the Eastern Band of Cherokee Indians. He also says casinos are more than just gambling, as a resort would bring new entertainment, dining, and lodging options to the rural area.
Rezoning Request
Cordish's rezoning request for the Rockingham County farmland will be formally voted on by the Rockingham County Board of Commissioners during their Aug. 21 meeting. The odds are presumed to be long that the vote will go in Cordish's favor after the County Planning Board in July voted 5-2 against the project and recommended the commissioners reject the application.
The farmland property butts up against Camp Carefree, a summer camp for children with chronic illnesses and disabilities.
We're not Las Vegas. We don't want to be Las Vegas," said Camp Carefree owner Chis Rodenbaugh.
There are, however, numerous other parcels of land located across Rockingham that could be targeted by Cordish. Along with Rockingham, Berger's bill is expected to qualify the counties of Anson and Nash as casino hosts.