Posted on: August 14, 2023, 11:53h. 
Last updated on: August 14, 2023, 11:53h.
Veteran running back Dalvin Cook has signed a one-year deal with the New York Jets, making him a potential bet in the upcoming NFL season. Cook's new contract, including incentives, could be worth up to $8.6 million.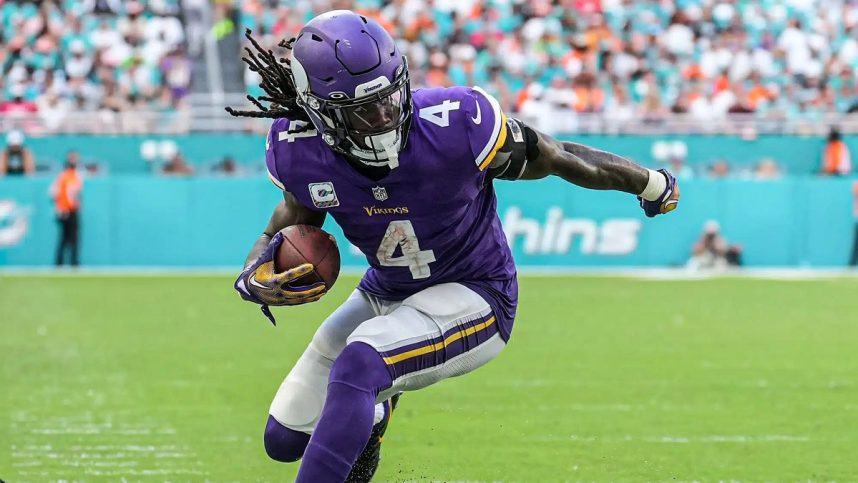 In an effort to save cap space, the Minnesota Vikings cut Cook during the offseason. However, he quickly became the top free agent and landed with the New York Jets.
Despite undergoing shoulder surgery in February, Cook is expected to join the Jets in a week's time, creating excitement around his role in the team's offense.
As of now, Kareem Hunt remains the top running back who has yet to sign with a new team following the New England Patriots' signing of Ezekiel Elliot. The New Orleans Saints, Indianapolis Colts, and Vikings are among the teams interested in Hunt.
The Jets already had a strong backfield before acquiring Cook. With Breece Hall, Michael Carter, and Zonovan Knight on the roster, the Jets are poised to have a formidable rushing attack.
Jets Stacked at RB with Cook, Hall, Carter
Cook has a proven track record with the Minnesota Vikings, posting four consecutive 1,000-yard rushing seasons and earning Pro Bowl appearances. Meanwhile, the Jets have struggled to produce a 1,000-yard rusher since the 2015 season.
In terms of yards from scrimmage, Cook ranks second over the last four seasons, with only Derrick Henry surpassing him. With an average of 111 yards per game, Cook has consistently been a top performer on the field.
Last season, Cook rushed for 1,173 yards and eight touchdowns, averaging 4.4 yards per carry. He also contributed in the passing game with 39 receptions and two receiving touchdowns.
Cook's standout season occurred in 2020, despite playing only 14 games. He recorded a career-high 1,557 rushing yards and 16 touchdowns, averaging 5.0 yards per carry. Additionally, he added 44 receptions and another touchdown.
"Obviously, you don't want to say no to a great player," said head coach Robert Saleh.
With the addition of Cook, the Jets have further strengthened their offense during the offseason. Alongside quarterback Aaron Rodgers, the Jets also signed veteran wide receiver Allen Lazard and speedy wide receiver/kick returner Mecole Hardman.
Despite these upgrades, the odds for the Jets' future performance remain unchanged. Currently, they are the second favorite with +270 odds to win the AFC East. Furthermore, they have +1600 odds to win Super Bowl LVIII and +1000 odds to win their first AFC Championship since the AFL-NFL merger.
The Jets have garnered additional attention following the debut of the popular reality series Hard Knocks, resulting in increased futures bets.
Looking ahead, the Jets aim to improve upon their 7-10 record from last season and secure their first playoff berth in over a decade. Oddsmakers have set their win total at 9.5, with -130 odds for the Jets to make the playoffs, according to DraftKings.