Posted on: August 1, 2023, 02:12h. 
Last updated on: July 31, 2023, 04:33h.
Harrah's Cherokee Casinos in Cherokee and Murphy, NC have enlisted actor and comedian David Koechner to spearhead a regional marketing campaign highlighting the exciting party experience available to guests at the two Native American resorts.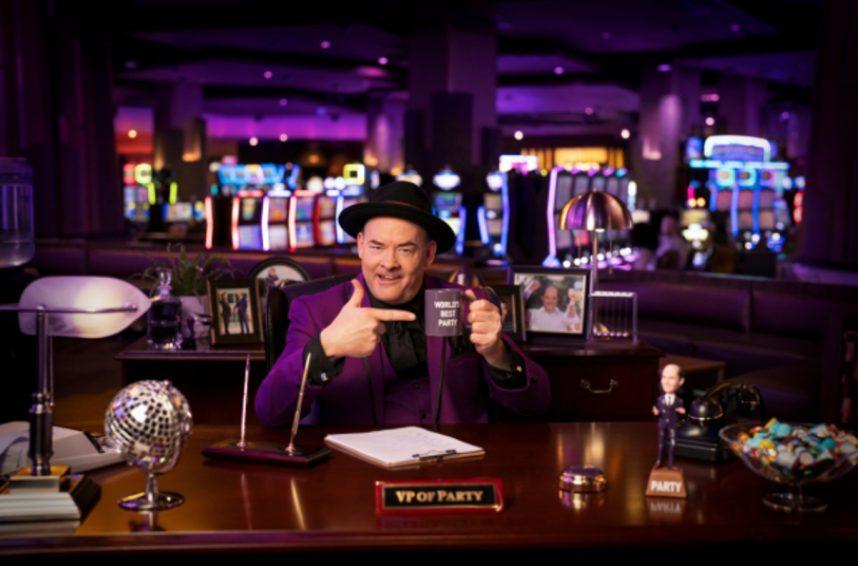 Known as the "VP of Party," Koechner takes center stage in the comprehensive advertising campaign that showcases the two casinos operated by Caesars Entertainment on behalf of the Eastern Band of Cherokee Indians.
San Diego-based advertising agency 62Above announced this week that Koechner is now the celebrity spokesperson for the tribal casinos. The campaign positions the actor-comedian as the "Vice President of Party," a fictional and humorous casino employee responsible for ensuring guests have a lively time at the resorts in rural southwestern North Carolina.
Erik Dargitz, Creative Director at 62Above, explained that the campaign builds upon Harrah's Cherokee Casinos' "Put On Your Party Hat" marketing effort, which has become synonymous with the spirit of the tribal resorts.
'Office' Star Ready to Party

Koechner, renowned for his roles in over 120 movies and TV shows, including "The Office" and "Anchorman," debuts as the charming "VP of Party" in the advertising campaign, highlighting the myriad of offerings at Harrah's Cherokee Casinos. The commercials showcase the casino floors, restaurants, bars, nightlife, and other entertainment options. Harrah's Cherokee Casinos include Harrah's Cherokee in Cherokee and Harrah's Cherokee Valley River in Murphy.
With eye-catching props and the casino as the backdrop, guests will have the chance to embrace the "VP of Party" title and promote themselves by taking social media-ready photos at the designated desk. They will have access to props such as party hats, disco balls, and "World's Best Party" mugs.
Speaking about the campaign, Brian Saunooke, regional vice president of marketing at Harrah's Cherokee Casinos, said, "We are thrilled to have David Koechner represent our new campaign across TV, print ads, and digital content, encouraging visitors to our properties to have a great time. His fun personality and sense of humor perfectly align with the vibrant and exciting atmosphere our guests will experience."
The integrated campaign is being promoted through various media channels, including TV, digital platforms, social media, and billboards across North Carolina, South Carolina, Georgia, and Tennessee.
Competition on the Horizon

Harrah's Cherokee Casinos face new competition from temporary casinos in Southern Virginia. Hard Rock opened a temporary casino in Bristol, Virginia, in July 2022, while Caesars Entertainment launched an interim casino space in Danville in May 2023.
Hard Rock International, owned by the Seminole Tribe of Florida, is investing $400 million in building a permanent resort named Hard Rock Hotel & Casino Bristol, which will be located at the former Bristol Mall.
Caesars is investing $650 million in the construction of Caesars Virginia in Danville.
These new properties are expected to draw some gambling revenue away from Harrah's Cherokee Casinos. Harrah's Cherokee is about 150 miles or a two-and-a-half-hour drive from Bristol, while Danville is further away, approximately four hours or 260 miles.