Posted on: July 18, 2023, 12:29h.
Last updated on: July 18, 2023, 12:29h.
The lazy days of summer may be showing in the June 2023 revenue report released by the Massachusetts Gaming Commission. Taxable gaming revenue for the month totaled $132.8 million. That's a 20% drop from the $159.6 million reported in May.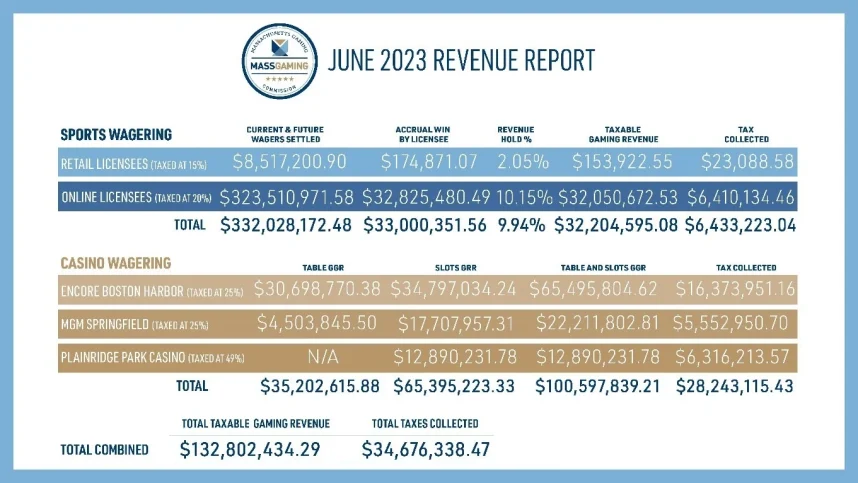 Analysts say the June slowdown isn't a surprise and point out that casino table and slots gross gaming revenue grew annually to $100.6 million, an 8% increase from June 2022.
Combined gross gaming revenue, or GGR, from Plainridge Park Casino (PPC), MGM Springfield (MGM), and Encore Boston Harbor (EBH) came in at an estimated $101 million. The total taxes collected were more than $28.2 million.
In terms of individual Massachusetts casinos, the Encore Boston Harbor remains in the top spot with a 9% year-over-year increase. EBH reported $65.4 million in slots and table GGR, up from $60 million in June 2022. The state collected $16.3 million in taxes.
But, while the table and slot games increased at Encore Boston Harbor, sports wagering revenue dropped dramatically, falling more than 90% month on month to $80,592 from $1.3 million in May.
Overall, sports wagering brought in an estimated $32.2 million in taxable revenue with the state collecting $6.4 million in taxes.
Breaking Down the Sports Wagering Summer Slowdown
The June $32.2 million taxable revenue marks a significant drop from the May total of $59.4 million, but there are some reasons to consider for the decline.
Online sports betting launched just four months ago in Massachusetts. Some fluctuations in the numbers can be anticipated even though there was an expectation the practice would only increase since its debut.
Retail sports betting launched in January and since then, the state has seen variations, with April taking in $364,481 in taxable revenue compared to May's $1.5 million and the March Madness timeframe at $1.4 million.
Then there's the sports calendar. Betting typically cools after the NFL Draft and NCAA Men's and Women's Final Fours in April. June spotlighted the NBA Final, NCAA College World Series, and the US Open.
The online sports betting drop comes after Massachusetts reported steady growth since March.
The Sports Handle Decline and Looking Ahead
The Massachusetts Gaming Commission revenue report shows the total sports betting handle for retail and mobile in the commonwealth in June was $332 million. That's down from $454.8 million in May, or a 27% decline.
Go back another month from April to May and Massachusetts' overall handle fell about 18% from $559.2 million to $454.9 million. Again, analysts nod toward the sports calendar, but that's a significant drop.
There are declines in some other states too. Nevada posted a 9% drop in handle between April's $580.55 million and May's $527 million. In Ohio, state data reveals a total sports betting handle decline of 30% from March to April.
Looking forward, future reports will include July betting events like the MLB All-Star Game, Open Championship, and Women's World Cup. NASCAR also has a few races in August.
The late summer and fall events are traditionally when sportsbooks see a resurgence in betting, particularly with the return of the NFL and college football in September.