Posted on: July 17, 2023, 03:31h. 
Last updated on: July 17, 2023, 03:31h.
Legal online casinos in Colorado are being discussed. Colorado's Department of Revenue Executive Director Mark Ferrandino confirmed that discussions regarding the matter have begun.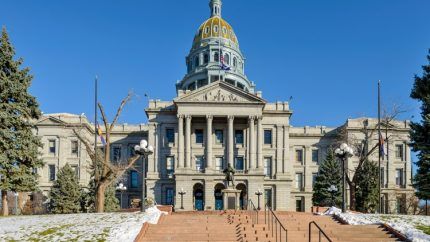 Ferrandino told an audience at the National Conference of State Legislatures (NCGLS) in Denver that "talks are underway about legalizing online casino gaming in the state."
Colorado could join the other states that are entering the online casino market to claim a share of the revenue generated by casino games on the internet. Just last month, Rhode Island became the seventh state in the US to offer iGaming. The first six states in the online casino market reported revenue of over $500 million in May 2023.
While Colorado law doesn't currently allow online casino gambling, it does permit regulated online sports betting. In the three years since online sports wagering officially began on May 1, 2020, Colorado has reported nearly $409 million in net sports betting proceeds. These figures could be driving discussions to expand the state's online gaming market.
The talks have begun, but the process to complete this may follow a convoluted path. First, the Colorado State Legislature would need to pass online casino legislation, which would then need to be signed by the governor before going to the voters for approval. After that, retail casinos could apply for licenses and partner with online operators.
Colorado's Rich Gambling Opportunities
Online sports betting, daily fantasy sports, and pari-mutuel wagering are all legal in Colorado. Colorado has 20 sportsbooks available, second only to New Jersey with 22.
Colorado has one of the lowest sports betting taxes in the US at 10%. This number is significantly lower than larger gambling states like New York at 51%, Pennsylvania at 36%, and Illinois at 15%. Colorado's tax applies to both mobile sportsbooks and retail operators.
Operating a sportsbook in Colorado is expensive, and some have not been successful. However, talks of expanding online gaming have sparked interest and investment. Barstool Sportsbook's parent company, PENN Entertainment, recently announced a substantial upgrade. The upgrade has been implemented in all 16 US jurisdictions where Barstool Sportsbook is live, including Colorado.
"Migrating onto our proprietary technology platform and introducing a fully upgraded Barstool Sportsbook is a milestone achievement," said Jay Snowden, CEO and President of PENN Entertainment.
In addition to the online environment, supporters of online gaming expansion point out that there are over 30 retail casinos in the Centennial State, implying that there could be plenty of licenses available and significant interest in obtaining them.
Online Operators Getting Ready
The potential for online casinos has prompted operators to prepare for launch. Being the first to enter the market could result in a larger share of profits.
Adam Noble, PlayStar co-founder and Chief Business Development Officer, has previously emphasized the importance of planning ahead.
PlayStar is a brand that's committed to providing players in the US with a genuinely unique online casino experience – and by teaming up with GF Gaming in Colorado, we're already looking ahead to how we can expand these plans into the next market when regulation allows," Noble said.
Supporters of the expansion of online gambling in Colorado have made comparisons to the state's sports betting numbers. It is believed that if and when online casinos are launched in the state, Colorado could generate similar figures to New Jersey or Michigan (approximately $156 million each in May).