Posted on: September 13, 2023, 01:05h. 
Last updated on: September 13, 2023, 01:07h.
Former President Donald Trump has been added to the high-profile list of speakers at the upcoming Republican Jewish Coalition's Annual Leadership Summit in Las Vegas. The event is scheduled to take place at The Venetian Resort next month.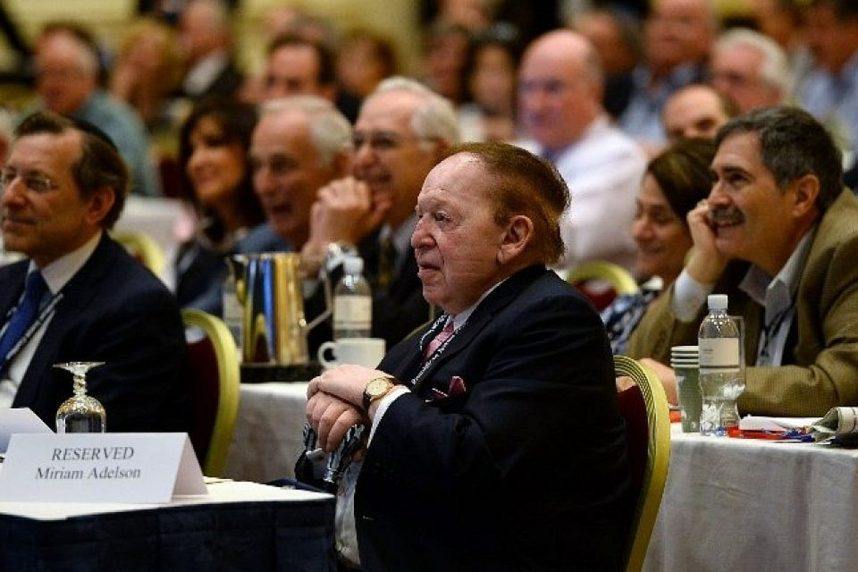 The Republican Jewish Coalition (RJC) aims to strengthen the bond between the Jewish community and Republican decision-makers in Washington, D.C., and throughout the country. With its two annual summits traditionally held in Las Vegas at The Venetian, the D.C.-based organization has become an influential force in American politics since its establishment in 1985.
Sheldon Adelson, the late founder of Las Vegas Sands and the builder of The Venetian and Palazzo properties, was a prominent member of the RJC board. Known for his generous donations to Republican causes, Adelson was a key figure in the party and one of its top financial contributors.
During the 2016 and 2020 election cycles, Adelson and his wife Dr. Miriam Adelson donated over $200 million to GOP candidates, including Donald Trump. Following Adelson's passing in January 2021, attention will be on Dr. Adelson as potential 2024 candidates seek her support in their campaigns against President Joe Biden.
🚨BREAKING: President @realDonaldTrump is CONFIRMED for the @RJC Leadership Summit next month!

NOW is the time to register for this outstanding weekend.

Join us: https://t.co/wuksy1YPpj pic.twitter.com/gyifAsXs6c

— RJC (@RJC) September 13, 2023
Candidates Vie for Support
The 2023 RJC Annual Leadership Summit is scheduled to take place in Las Vegas from October 27-29. Over the course of three days, several Republican candidates vying for the party's presidential nomination will make their pitches to the influential and affluent attendees, seeking their political contributions.
In addition to Donald Trump, notable figures such as Florida Governor Ron DeSantis, businessman Vivek Ramaswamy, former South Carolina Governor Nikki Haley, former Vice President Mike Pence, South Carolina Senator Tim Scott, and former New Jersey Governor Chris Christie are all set to appear at the RJC Leadership Summit.
According to political wagering exchanges, Donald Trump currently holds the frontrunner position, with bettors giving him a nearly 70% chance of winning the Republican nomination for the third straight presidential election. Ron DeSantis trails far behind at just 13%, followed by Vivek Ramaswamy at 11% and Nikki Haley at 10%.
The RJC Leadership Summit promises to be a gathering of influential figures within the US Jewish community. However, all eyes will likely be on Dr. Miriam Adelson as potential 2024 GOP candidates seek her endorsement and financial backing in their upcoming campaigns against President Joe Biden.
Dr. Adelson inherited her late husband's stake in Sands, which represents the majority of the casino empire. According to Forbes, her estimated net worth currently stands at $32.8 billion, although it has experienced a decline of about 12% over the past six months.
Will Adelson Support Trump?
As of now, Dr. Adelson has not made any federal campaign contributions this year. However, in 2022, she donated over $27 million to Republican candidates and PACs. Notably, she contributed $12.5 million each to the Senate Leadership Fund and the Congressional Leadership Fund, and $1 million to Texas Governor Greg Abbott, a state where Sands heavily lobbied for the legalization of commercial casinos without success.
Dr. Adelson has also contributed $2,900 directly to Senator Tim Scott, making him the sole 2024 GOP presidential candidate to receive financial support from the billionaire heiress.
Donald Trump shares a close relationship with Adelson, who awarded her the Presidential Medal of Freedom in 2018 for her philanthropic and humanitarian work. Trump also fulfilled the Adelsons' long-standing desire by relocating the US Embassy from Tel Aviv to Jerusalem during his presidency.