Posted on: September 11, 2023, 02:13h.
Last updated on: September 11, 2023, 02:13h.
Online sportsbook DraftKings issued an apology on Monday after offering customers the opportunity to bet on three New York-based teams on the anniversary of the Sept. 11 terror attacks. The parlay, which featured the Mets, Yankees, and Jets, was quickly removed following swift criticism. DraftKings expressed regret for the insensitivity and highlighted their respect for the significance of the day and the families affected.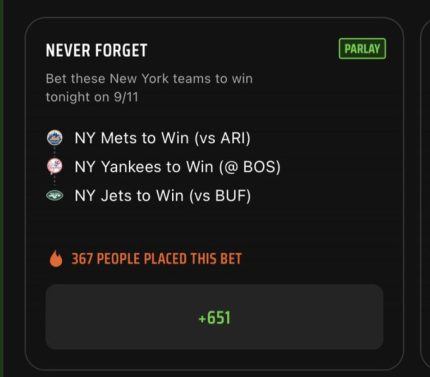 "Bet these New York teams to win tonight on 9/11," DraftKings advertised, as per screenshots shared via social media.
DraftKings, being the second-largest sportsbook in New York, faced criticism for the parlay offer. The New York State Gaming Commission expressed disappointment and emphasized the importance of sensitivity among licensees. However, it is unlikely that DraftKings will face any regulatory consequences beyond negative publicity. Parlays like this one are legal under New York regulations, and licensees have the freedom to market them as they see fit.
The New York Post labeled the bet as "tone deaf" and criticized the odds provided by DraftKings, suggesting that FanDuel offered better value for the same bet. Other commentators highlighted the larger issue of brands and online individuals continuing to exploit national tragedies for promotion purposes.