DraftKings and Major League Baseball have been in business together for a number of years. But their relationship deepened on Thursday with the announcement that DraftKings is now the second official gaming partner of MLB.
In the present moment, the main benefit for DraftKings in the deal is in branding. They can now call themselves an "Authorized Gaming Operator" of Major League Baseball and there are no other online sportsbooks that have that title.
They also will be able to use the league's logos and they will be providing official league data as their source for placing bets. Down the road that is also likely to help lead the way with expanded live-betting options.
In making the announcement, the Chief Business Officer for DraftKings, Ezra Kucharz confirmed that, saying, ""DraftKings is proud to be designated as a Major League Baseball Authorized Gaming Operator. This deal speaks to the commitment we have to our customers and sports leagues alike while providing the safest and most entertaining American-made sportsbook. As a result of this agreement, our customers will experience enhanced live wagering offerings for all MLB games."
DraftKings, for most of its existence has been one of the leading fantasy sports betting websites, but ever since the Supreme Court reversed the PASPA law allowing states to set their own gambling laws, their business model has changed. DraftKings is now also a leading online sportsbook operator, especially in the exploding New Jersey market. They have also opened bricks and mortar sportsbooks in New Jersey and Mississippi with plans to continue that expansion.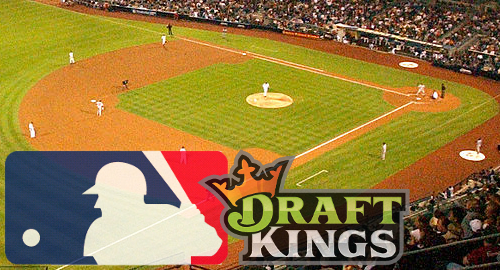 MLB also sees the financial incentives in partnering with DraftKings. They have arguably been the leading sport in trying to get industry players and new states coming online to use official league data.
Part of the reasoning is to protect the integrity of the game, but part of it is that MLB's profit model with the gambling industry is to get paid whenever someone uses official league data to place their bets.
They are also wagering on the fact that being able to offer reliable and instantly available sports data will increase the amount of ways and money that people are betting on baseball. Such is the benefit of live-betting once it becomes a mature offering.
Kenny Gersh, MLB's executive vice president, gaming and new business ventures, spoke to that potential saying, ""Buoyed by our collective commitments to drive innovation in the U.S. sports betting marketplace, the tools provided to DraftKings – including fast, rich and reliable data feeds and MLB brand marks – will be central to creating these powerful new ways to consume and connect with our sport."
MGM Resorts International was the first gaming company to ink an authorized gaming operator deal with MLB.
Tennessee and Illinois are the only two states who have agreed to force gaming operators in their states to use official betting data. Both states will have online betting options when gambling goes live and this deal surely gives DraftKings an edge there as well.