Posted on: August 16, 2023, 11:41h. 
Last updated on: August 16, 2023, 11:42h.
Tech titans Elon Musk and Mark Zuckerberg, who hold the top ranks on the Forbes "Real-Time Billionaires List," in late June created excitement by teasing a potential UFC-style cage fight to settle their differences. However, nearly two months have passed without a set date, and the probability of the fight happening has decreased.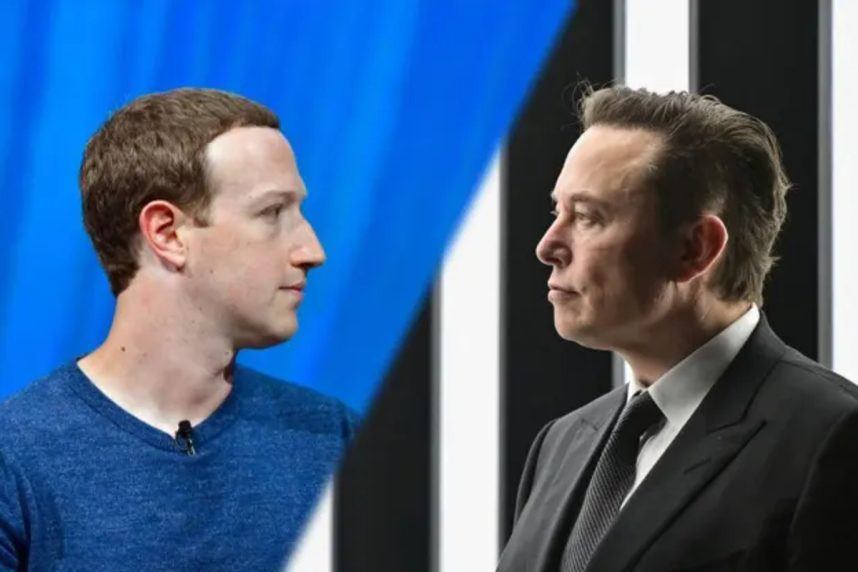 UFC President Dana White has been working behind the scenes to arrange a battle between the two billionaires, who have shown little fondness for one another. White believes that if the fight takes place, it would go down in history as the "biggest fight ever in the world."
Sportsbooks have already released odds on the hypothetical fight, but US oddsmakers are refraining from taking bets. This is due to the fact that most state gaming regulators only allow betting on fights sanctioned by organizations such as the Nevada Athletic Commission.
Musk took to his X platform (formerly Twitter) this morning to accuse Zuckerberg of causing the delay and potential cancellation of the match.
"I joked on X about fighting Zuck. Zuck then said 'SEND ME LOCATION.' Italy graciously offered a Colosseum. Zuck declined," Musk claimed on his X post.
"I suggested his home as a 'safe space.' Unfortunately, he was ahem 'traveling.' Is there anywhere he will fight?" Musk wondered.
Zuck Rebuttal
On Threads, Zuckerberg's newly launched Twitter competitor, the Meta chair and CEO stated that Musk was never serious about the fight, and now it's time to stop wasting time on the matter.
I think we can all agree that Elon isn't serious and it's time to move on," Zuckerberg wrote. "I proposed a real date. Dana White offered to make this a legitimate charity event. Elon won't confirm a date, then claims he needs surgery, and now suggests doing a practice round in my backyard instead.
However, Zuck isn't completely dismissing the idea.
"If Elon ever becomes serious about an official event and a real date, he knows how to contact me. Otherwise, it's time to move on. I'm going to focus on competing with people who are serious about the sport," Zuckerberg concluded.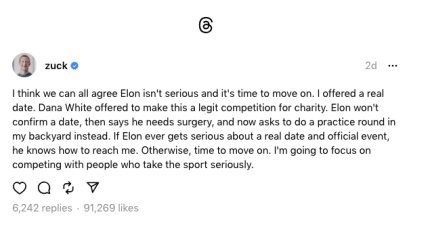 The specific conditions for the fight were never established, though Zuckerberg has experience in jiujitsu, a form of Japanese martial arts.
The fight speculation arose after Zuckerberg launched Threads to compete with Musk's Twitter. Zuckerberg stated that a "sane" individual should control the world's online platform for discussion.
This prompted Musk to jokingly offer to participate in a cage match if Zuckerberg was interested. Since then, the two have been exchanging words and deflecting blame for the lack of progress in scheduling the fight.
Betting Downer
Although the proceeds from the fight would have gone to charity, the proposed showdown between Musk and Zuck would have attracted significant betting interest for sportsbooks if it had been sanctioned by the Nevada Athletic Commission.
Several US sportsbooks have posted hypothetical odds on the fight, but they have not started accepting bets. Zuckerberg remains the frontrunner with odds of -435, giving him an 81% chance of victory. A $100 bet on this line would yield just $23 if the fight takes place and Zuckerberg emerges as the winner.
Musk's consensus odds stand at +350, implying a 22% chance of winning. A successful $100 wager on this line would result in a $350 payout.