Posted on: July 5, 2023, 11:41h. 
Last updated on: July 5, 2023, 11:46h.
The asphalt is still months away from being poured for the debut Formula 1 Las Vegas Grand Prix. Yet F1 already announced the dates for its follow-up edition on Wednesday morning. They are Nov. 21-23, 2024.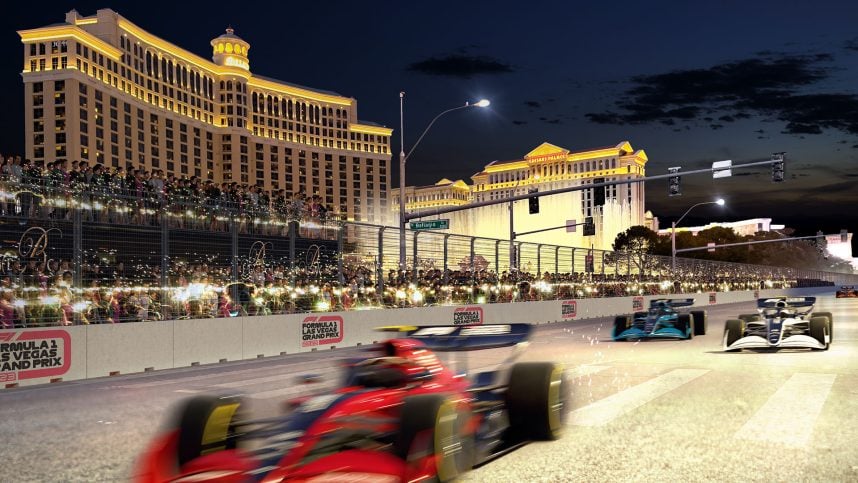 "We have plenty of racing to look forward to in 2023, including the inaugural Las Vegas Grand Prix, and our fans can look forward to more excitement next season," Stefano Domenicali, F1's president and CEO, stated in a press release.
The 2024 Las Vegas Grand Prix will be one of a record 24 scheduled by F1, according to a news release. The season will begin March 2 in Bahrain — a new location for F1 — and reach its finish line on Dec. 8 in Abu Dhabi.
"There is huge interest and continued demand for Formula 1, and I believe this calendar strikes the right balance between traditional races and new and existing venues," Domenicali stated.
F1 will hold its inaugural Grand Prix on Nov. 16-18, 2023, on a 3.8-mile street circuit enveloping the Las Vegas Strip. Crews are continuing to prepare the Strip and surrounding roadways — including Koval Lane and Harmon and Sands avenues — for their transformation into racetrack corners and straightaways.
24 in '24
F1's 2024 calendar includes some alterations aimed at "reducing logistical burdens and making the season more sustainable," the press release stated.
For instance, the Japanese Grand Prix moves to April, the Azerbaijan Grand Prix moves to September, and the Qatar Grand Prix moves to the second-to-last weekend of the season.
In addition, the Las Vegas Grand Prix will be the first race not held on a Sunday since 1985. Two other races, in Bahrain and Saudi Arabia, were moved to Saturday to accommodate Ramadan, the Islamic holy month of worship.
The Chinese Grand Prix is also back on the schedule for the first time since 2019, owing to the COVID-19 pandemic.
Here is F1's full 2024 calendar:
March 2: Bahrain (Sakhir)
March 9: Saudi Arabia (Jeddah)
March 24: Australia (Melbourne)
April 7: Japan (Suzuka)
April 21: China (Shanghai)
May 5: US (Miami)
May 19: Emilia Romagna (Imola)
May 26: Monaco (Monte Carlo)
June 9: Canada (Montreal)
June 23: Spain (Barcelona)
June 30: Austria (Spielberg)
July 7: UK (Silverstone)
July 21: Hungary (Hungaroring)
July 28: Belgium (Spa-Francorchamps)
Aug. 25: Netherlands (Zandvoort)
Sept. 1: Italy (Monza)
Sept. 15: Azerbaijan (Baku)
Sept. 22: Singapore (Marina Bay)
Oct. 20: US (Austin)
Oct. 27: Mexico (Mexico City)
Nov. 3: Brazil (Interlagos)
Nov. 23: US (Las Vegas)
Dec. 1: Qatar (Lusail)
Dec. 8: Abu Dhabi (Yas Marina)