Posted on: September 4, 2023, 07:11h. 
Last updated on: September 4, 2023, 07:11h.
Despite Twitch's dominance in the streaming industry, rival platform Kick is making strides to challenge their position. One factor contributing to Kick's success is its support for gambling content, giving it an edge in the ongoing streaming wars.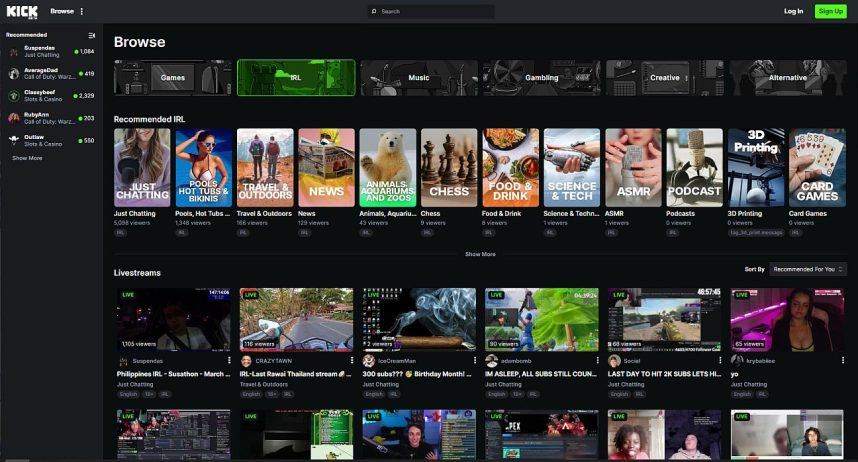 Since its launch earlier this year, Kick, backed by Stake, has been steadily growing in the streaming industry. By signing top Twitch streamers like xQc and Amouranth, Kick has reached 100 million viewing hours in a month for the first time, with slots and gaming content playing a significant role in this achievement.
Kick's Rising Popularity
The platform has seen a consistent increase in viewer hours month over month, with an average of 13% more concurrent viewers. However, peak viewership experienced a 25% decline in August after a steady growth from May to July.
Although the progress may not be as noticeable as in the spring season, several indicators suggest that Kick is advancing. Recent data from StreamCharts.com shows a substantial increase in the average number of online viewers compared to the previous month, despite a surge in bot activity in July.
Kick's "Just Chatting" category leads the list, achieving a 33% increase in viewing hours from July, totaling 34 million hours. However, peak concurrent viewership in this category decreased by a comparable amount, highlighting the challenge of viewer retention.
The "Slots & Casino" category came in second, growing by 57% compared to July. It showed growth in almost every metric throughout the month, confirming Kick's success in the gaming segment.
A specific slot game for Grand Theft Auto (GTA) V gained popularity, recording a 700% monthly increase. This was mainly attributed to recent updates and news surrounding the video game, as well as the rising participation of GTA streamers on Kick.
Streaming Platforms and Gambling Content
While gambling content is lucrative and important for streaming platforms, providers should prepare for potential changes. Regulators and legislators are increasingly scrutinizing platforms like Kick and TikTok, signaling an end to the days of unrestricted online content.
France and other countries have already taken a firm stance against influencer-led gambling content, and the European Union is likely to follow suit.
Denmark's gaming regulator, Spillemyndigheden, recently fined a streamer for promoting an unlicensed online gaming platform. The streamer had to pay €1,340 (US$1,446), and the regulator warned that others would face similar consequences.
Cracking down on gambling content is not limited to Europe. The US has influenced Twitch to change its stance on such content, announcing last September that only operators licensed in the US or major jurisdictions would be allowed. It's expected that the Philippines will also adopt a stronger position against unlicensed gaming platforms due to current sentiments within legislative circles.