Posted on: October 25, 2023, 04:25h. 
Last updated on: October 25, 2023, 04:25h.
Gaming and Leisure Properties (NASDAQ: GLPI) has announced a $175 million financing commitment for a baseball stadium at the Tropicana site on the Las Vegas Strip. However, an industry analyst suggests that the investment could increase in the future.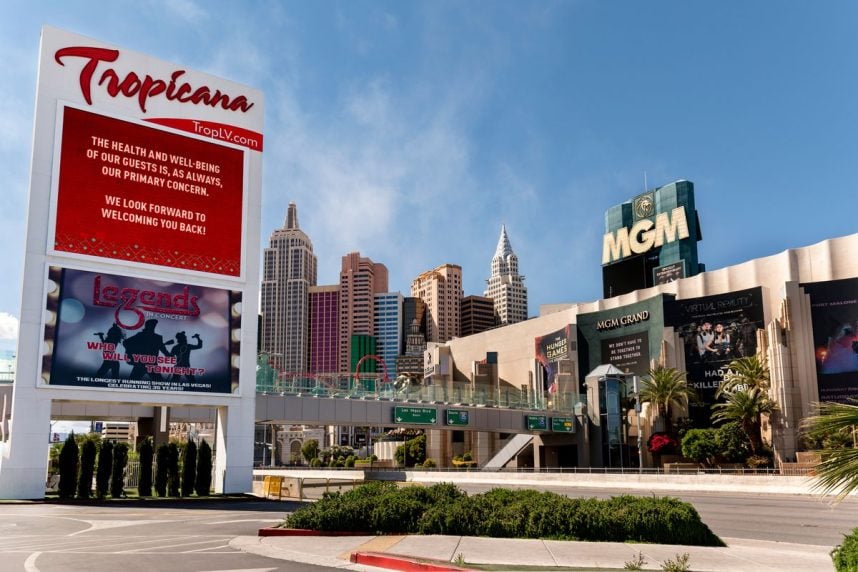 According to JMP Securities analyst Mitch Germain, discussions with Gaming and Leisure executives at the Global Gaming Expo (G2E) indicate that the real estate investment trust (REIT) is optimistic about the prospects of the Las Vegas ballpark plan and may consider a larger investment.
GLPI management was enthusiastic about prospects for participation at the project in larger scale, above the original $175 million commitment, wrote Germain in a recent note to clients.
Currently, GLPI owns property assets at 59 gaming venues across 18 states.
Gaming and Leisure Talks Tropicana
While GLPI typically focuses on regional casino real estate, it also possesses the property assets associated with the Tropicana on the Las Vegas Strip. Should the Oakland Athletics move to Las Vegas as expected, GLPI could benefit. Bally's, the operator of Tropicana and GLPI, has agreed to fund up to $175 million worth of property improvements in exchange for a rent increase.
If the plan to demolish the Tropicana and build a baseball stadium proceeds, Bally's would need compensation. Tropicana is their only Las Vegas venue.
In April 2021, Bally's acquired Tropicana's non-real estate assets from Gaming and Leisure Properties (NASDAQ: GLPI) in a transaction valued at $308 million. As part of the deal, Bally's sold the property assets of venues in Colorado and Illinois to GLPI and leased them back. Bally's has a 50-year lease for Tropicana starting at $10.5 million annually.
Germain noted that GLPI management mentioned the potential for Bally's to redevelop the Tropicana site after the stadium is constructed.
Management alluded to several moving pieces about not only the stadium, but the potential for Bally's to re-develop the Tropicana site, added the analyst.
Expect More Clarity Soon
Additional details regarding the Las Vegas stadium project and the future of Tropicana could be revealed soon. The Oakland Athletics are appearing before the Las Vegas Stadium Authority today for the first time.
Furthermore, GLPI will release its third-quarter results on Friday, and analysts are likely to question management regarding the stadium plan and the future of Tropicana. While not yet official, it is highly likely that the casino hotel will be demolished.
Last year, Bally's Chairman Soo Kim expressed intentions to make significant changes at Tropicana, including demolition and rebuild.