Date: August 8, 2023, 12:54h. 
Last updated: August 7, 2023, 04:05h.
The Rocksino by Hard Rock Opens in Deadwood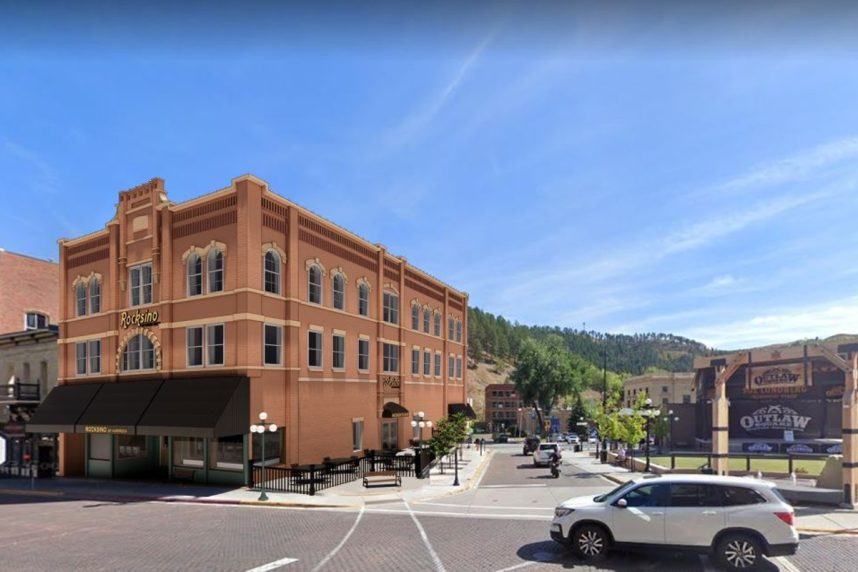 Formerly known as Hickok's Hotel & Gaming, the Hard Rock Rocksino is a boutique casino and hotel located on Deadwood's Main Street.
Steve Slowey purchased Hickock's during the COVID-19 pandemic for $4 million. Slowey then partnered with Oswald Entertainment, based in Nashville but with a lengthy history in Deadwood, and the combined ownership group announced the property's rebranding plan in May.
Marc Oswald, CEO of Oswald Entertainment, was one of the original partners of the Deadwood Mountain Grand, which opened in April 2013. Oswald is also a live music promoter in Nashville. In Deadwood, Oswald Entertainment produces the "Deadwood Live! Open Air Music Series" throughout the summer in Outlaw Square. The concert park is directly adjacent to the Hard Rock Rocksino at the intersection of Main and Deadwood.
Hard Rock Makes Its Debut
The Rocksino by Hard Rock is a unique addition to Deadwood. While most Hard Rock hotels have hundreds or thousands of rooms, this boutique casino and hotel offers just 28 guestrooms. According to Oswald, this will attract new visitors to the town, benefiting not only the Rocksino but the entire area.
We've only got 28 hotel rooms, so the traffic we expect to be able to bring into Deadwood is going to result in a lot of spillover traffic," Oswald said. "We believe the rising tide lifts all boats."
Compared to other Hard Rock casinos, the Rocksino in Deadwood has a considerably smaller gaming space. With only 86 slot machines and no table games, it is designed to provide a boutique Hard Rock experience rather than a large-scale resort.
Oswald explained that the "Rocksino" label was chosen to differentiate the property from Hard Rock's destination-type casino resorts.
While the concept of a Rocksino is new to Deadwood, Hard Rock previously used the term in Ohio for the Hard Rock Rocksino Northfield Park near Cleveland. The management agreement for the racino was terminated when MGM Resorts purchased the property in 2018 for over $1 billion.
After a successful soft opening, the Rocksino by Hard Rock in Deadwood will officially open to the public today, Aug. 8, at 5 p.m. MDT. To mark the occasion, nearly two-dozen guitars will be smashed at around 6 p.m. by local and state officials, property owners, Seminole tribal leaders, and celebrity guests. The "Grand Opening Guitar Smash" is a tradition for Hard Rock when inaugurating new venues.
Get ready 2 ROCK DEADWOOD! As an entertainment destination, Hard Rock International is renowned for taking things up a notch, & our casino in @DeadwoodSD NOW OPEN is NO exception… #rocksino #hardrock #deadwood #southdakota pic.twitter.com/5HEQ7uaxMo

— ROCKSINO by Hard Rock (@RocksinoHR) August 3, 2023
Deadwood Officials Reject Guitar
In June, Deadwood city officials rejected Hard Rock's plan to construct a large guitar on the Rocksino's façade, citing a deviation from the town's historical roots.
The Deadwood City Commission also denied the hotel's proposal for a guitar statue at Outlaw Square, stating that it did not align with Deadwood's branding.
Instead, Hard Rock was given permission to place a smaller guitar logo on the hotel's awning.