Posted on: August 16, 2023, 12:06h.
Last updated on: August 16, 2023, 12:06h.
In the world of sports betting, August 13 was a day to remember at the Seminole Hard Rock Hotel & Casino in Tampa. A mystery player, whose identity is still unknown, walked away with a massive $1.25 million win. This incredible stroke of luck occurred when the player decided to insert a last-minute bill into a gambling machine before leaving the casino for the day. The initial bet of $5 was increased to $12.50, leading to a life-changing payout on the Aristocrat Gaming machine game called "Dollar storm – Ninja Moon". The total win amounted to $1,253,321.04, making this an unforgettable moment in the world of sports betting and casino gaming.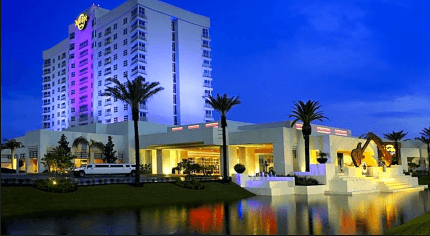 The winnings at the Seminole Hard Rock Hotel & Casino in Tampa weren't the only exciting news in the world of sports betting. Daniel Johnson and his wife, Janice Johnson, from Latrobe, Pennsylvania, recently walked away with a hefty $140,795 payout at Live! Casino Pittsburgh. The couple had been visiting the gaming property on July 29 when fate struck. Janice had to use the restroom, so Daniel took her place at the game and ended up hitting the jackpot, winning a grand progressive payout. When asked about their plans for the money, Daniel jokingly told the Latrobe Bulletin news outlet, "We'll probably blow it (at the casino)".
In another stroke of luck, Janice Johnson, who had previously won a car during a Mother's Day promotion at Live! Casino Pittsburgh, continued her winning streak. Janice and Daniel are frequent guests at the casino, and Daniel often takes her place temporarily at a machine when she needs to use the restroom or grab a bite to eat. This strategy has proven to be successful for the couple, as casino management always appreciates seeing visitors hit jackpots. Casino General Manager Sean Sullivan expressed his excitement about the win, stating, "It never fails to be exciting when a guest wins big at Live! Casino Pittsburgh. We congratulate Mr. Johnson on his big win and can't wait to see him again at Live! Casino."
Across the country, on July 11, another lucky guest experienced a significant win at The California Hotel & Casino. Playing on a "Huff 'n' More Puff" machine, the guest walked away with over $19,000 in winnings. This thrilling win highlights the popularity and excitement of casino gaming across the United States.
In recent news, Light & Wonder, the company that provides the "Huff 'n' More Puff" machine, announced its reunion with SciPlay, a social casino developer. Light & Wonder will acquire the remaining 17% of SciPlay in an all-cash deal, solidifying its position in the casino gaming industry.