Posted on: August 8, 2023, 03:06h.
Last updated on: August 8, 2023, 03:06h.
Bullets were fired into the ceiling of Missouri's Hollywood Casino & Hotel St. Louis at about noon on Sunday.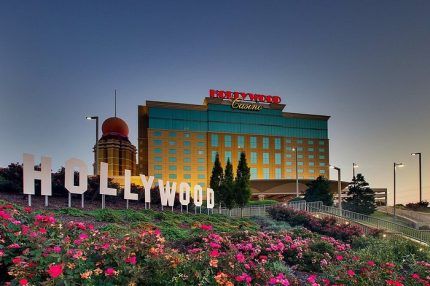 Authorities did not reveal a damage estimate. No one appeared to have been injured.
A female suspect was arrested a short time later.
The unnamed woman also was allegedly driving erratically near the gaming property, according to St. Louis TV station KTVI.
The Maryland Heights Police Department was expected to charge the suspect for the alleged wrongdoing.
Six Arrested, Machines Seized
Some 35 electronic gaming machines were seized during Saturday's raid of an illegal gambling den in Alabama's Walker County.
Six suspects were apprehended at the location, too. They were wanted on outstanding warrants.
Four had pending warrants with the Walker County Sheriff's Office and two had warrants with the Jasper Police Department.
The gaming devices were "essentially slot machines where cash is inserted directly into the machines," authorities were quoted by Al.com, a regional news site.
The Walker County Sheriff's Office said someone overdosed at the property. The person was later revived even though no one at the gambling den called for an ambulance, according to a Facebook post.
Sheriff Nick Smith shuttered the Mays Road gambling operation on Saturday evening.
"Gambling via the use of predominately chance electronic gaming machines, along with cash payouts, remains illegal in Walker County and enforcement will continue as necessary," the sheriff's office said in the Facebook post.
Florida Authorities Seize 247 Devices
The Lee County Sheriff's Office raided three illegal arcades in Florida in the past week. Some 247 gaming machines and $109,246 were confiscated.
The illicit operations were identified as Spin City on Reflections Parkway in south Fort Myers, Spinners Arcade in Iona, and Lucky's Arcade in Bonita Springs.
On Wednesday, Lucky's Arcade employee Stephanie Boughton-Hill was charged with drug possession and working at an illegal arcade.
"If you are running that, and running that means not necessarily being the owner, but it could be … just any worker that's there that keeps the business operating while the owner is away, is in violation of Florida law," Carl Herold, director of gaming enforcement with the Florida Gaming Control Commission, told Florida TV station WBBH.
"They (The Lee County Sheriff's Office) should be applauded for being as proactive as they are in taking down these arcades that are hurting your community," Herold told WBBH.
Fake Money
A woman was apprehended recently after she tried to use a fake $100 bill at Indiana's Bally's Evansville.
The suspect, Shatanya Bennett, was seen at the gaming property. But she was on a list of those who are prohibited from entering casinos in Indiana, according to Evansville TV station WFIE.
In addition, she initially gave police a fake name, authorities said. Her real name was revealed when she accidentally showed police a correct ID.
Dead Body
A person was found dead on last Tuesday near the parking garage of the Sparks, Nev's Nugget Casino parking garage.
The unnamed person suffered multiple injuries before he/she was found on the ground, according to Nevada's KOLO TV station.
The victim was declared dead after being transported to a local hospital.
The incident was under investigation last week. It was unclear what led to the person's death.
Shooting Outside Casino
A 54-year-old person was shot on July 28 in New Orleans near Harrah's Casino.
The unnamed victim was wounded on Poydras Street and taken to a local hospital for treatment, according to Louisiana TV station WDSU.
It was unclear if a suspect has been identified or charged.