Posted on: August 17, 2023, 03:31h.
Last updated on: August 17, 2023, 03:31h.
In the competitive world of sports betting, attracting customers is just the first step. Keeping them engaged and loyal is the real challenge. Gaming companies understand the importance of client retention and are willing to invest heavily to achieve it.
In the US online sports wagering market, Flutter Entertainment's FanDuel and DraftKings dominate, controlling about three-quarters of the market share. However, Caesars Sportsbook is also making strides in retaining its customers.
According to Eilers & Krejcik Gaming (EKG), Caesars is slightly ahead of FanDuel and DraftKings in terms of customer retention at Day 60. This is impressive considering the strong presence of the two dominant operators.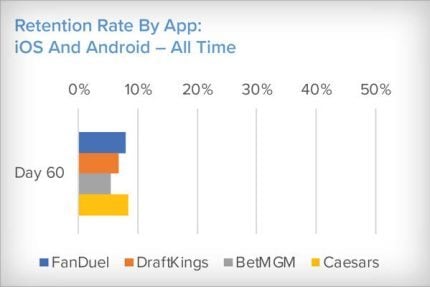 Enthusiasm for new sports wagering apps, especially those from well-known brands, is common in the industry. However, retaining customers becomes the key challenge for operators, as many were likely enticed by generous sign-on bonuses. Caesars Sportsbook is proving successful in this regard.
Caesars Excels at Retaining Clients Despite Spending Cutbacks
Caesars stands out among online sportsbook operators for significantly reducing marketing and promotional spending.
While cutting back on promotional spending may risk losing customers who are attracted by incentives, Caesars has managed to retain its customer base by focusing on its Caesars Rewards loyalty platform.
"Caesars has shifted its strategy to focus on more organic acquisition through its loyalty scheme. This has resulted in higher customer retention rates, exceeding expectations compared to rival operators," said Eilers & Krejcik Gaming (EKG).
Caesars Rewards appeals to online sportsbook and iGaming clients because points earned online can be used at the operator's land-based casinos.
Customer Retention Challenges in Online Sports Betting
Retaining loyal online sports wagering customers is no easy feat for gaming companies. Novice bettors often chase promotional offers, while experienced bettors search for the best odds. Loyalty is hard to come by in this industry.
Statistics show that just over half of bettors who sign up for a regulated mobile sports betting account make more than two deposits in their first year. Less than 5% remain loyal to a specific platform after a year.
In comparison, traditional industries tend to have higher customer retention rates, ranging from the mid-50% range to the mid-80% range. The iGaming space, including sports betting, struggles to achieve a higher retention rate, which hovers around 40%.
However, some operators have mastered the art of client retention. For instance, DraftKings reported that 83% of new clients stay with them for a year, with 88% of that group continuing to use their accounts into year two. Loyal clients also contribute more to operators' profits the longer they remain with the company.