An Indiana casino will pay $16K to the state of Indiana to settle several charges, including failing to check if winners were delinquent on child support before delivering big payouts.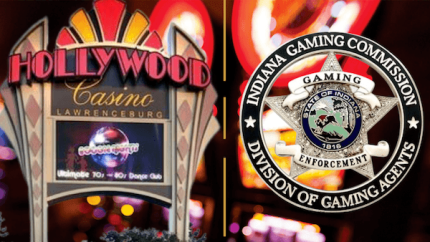 The Indiana Gaming Commission and the operators of Hollywood Casino Lawrenceburg reached a settlement on June 15 and released the document this week. In addition to the child support allegations, the Commission also said that Hollywood failed to comply with revenue reporting regulations and allowed vendors to work on its floor using improper credentials.
Indiana law requires casino operators to check a state database of child support scofflaws and to withhold any money those winners owe before disbursing sports betting payouts of $600 or more.
Hollywood Casino Lawrenceburg failed to search eight individuals through the Child Support Arrears Delinquency Registry before handing over large payouts, according to a settlement released this week.
Gaming agents discovered the oversight during audits conducted in December 2022 and February 2023. Three of the individuals won taxable jackpots, and the other five won at least $600 on sports wagers.
In exchange for the payments, the Commission is agreeing to forego further disciplinary action related to the violations it documented. The settlement is split among the three violations: $8,000 for the child support allegations, $5,000 for the variance, and $3,000 for the improper use of vendor badges.
Revenue Variance
Hollywood Casino Lawrenceburg also failed to notify audit staff at the commission of an investigation into a substantial variance discovered on its electronic gaming device drop that was discovered in March 2023.
The casino discovered a $146,748.47 shortage on two devices that had recently moved locations, according to the settlement. The shortage was split between bills ($58,637) and tickets ($88,111.50).
The devices had been moved in the middle of a weekly drop cycle, which caused boxes to be counted when they weren't physically dropped.
Vendor Badges
Gaming agents also discovered that Hollywood Casino Lawrenceburg allowed a handful of vendors to work on the casino floor using a vendor and visitor badge instead of their own individual licensees.
In separate incidents in December, Acres Manufacturing and Global Surveillance Associates employees were allowed to work on the casino floor using vendor's badges, according to the settlement.
"The employee holds an occupational license with the Commission and should have worked on his occupational license," according to the settlement.
The settlement also detailed incidents in February when a trainee with Everi Games was issued a temporary badge that the commission hadn't approved. The trainee had received a one-time approval the prior month to observe another licensee, but was advised that he could not perform work until he was licensed with the commission.
The post Indiana Casino Fined for Failing to Police Child Support Scofflaws appeared first on Casino.org.