Iowa State Quarterback Accused of Betting on College Football Games
Posted on: August 2, 2023, 09:55h.
Last updated on: August 2, 2023, 09:55h.
Hunter Dekkers, the starting quarterback for the Iowa State Cyclones, has been accused of betting on Iowa State sporting events, including one college football game.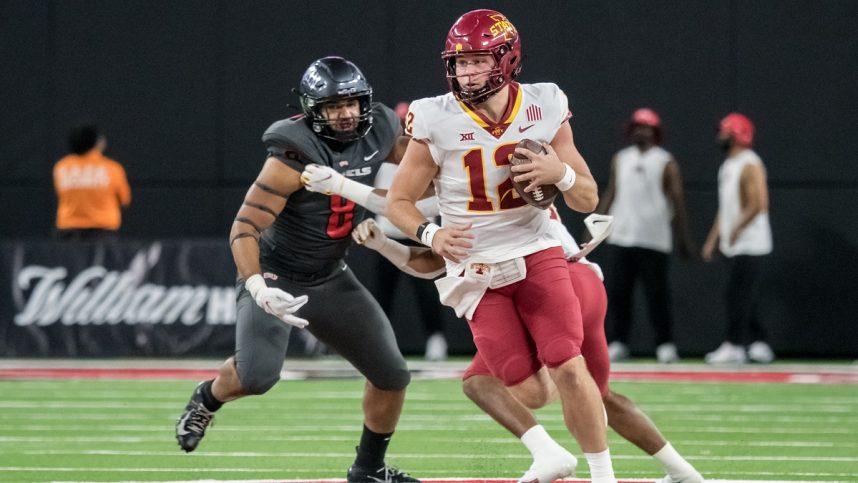 Last season, Dekkers started 12 games as the junior quarterback for the Iowa State team. Unfortunately, they had a disappointing performance with a 4-8 record and no bowl game qualification. However, Dekkers was expected to start this season.
In May, the NCAA announced that multiple student athletes, including 15 from Iowa State, had violated gambling protocols. Despite this, the Iowa Racing and Gaming Commission assured that the integrity of the betting markets was not compromised by any of the student athletes or their wagers.
"We currently do not have any indication that there are any issues that would raise doubt on the integrity of the markets that have been offered from those two universities," said Brian Ohorilko, the administrator of the Iowa Racing and Gaming Commission, in an interview with the Des Moines Register.
Dekkers is one of four student-athletes from Iowa State who were implicated in a recent investigation. The others include Paniro Johnson, Dodge Sauser, and Eyioma Uwazurike.
Uwazurike, previously a member of the Iowa State football team, played as a defensive lineman for the Denver Broncos last season. However, he was recently suspended by the NFL for betting on professional football games during his rookie year.
Dekkers' Bets on Iowa State Events
The Iowa District Court for Story County filed a criminal complaint against Dekkers, revealing that he placed 366 wagers on DraftKings, totaling $2,799. It is said that at least 26 of these wagers were on Iowa State sporting events, including one college football game.
Dekkers made small wagers averaging less than $8 per bet, and most of his bets were placed when he was underage. In the state of Iowa, the legal betting age is 21.
On October 23, 2021, Dekkers placed a bet on an Iowa State football game. Although he didn't play in that game, Iowa State managed to secure a victory against Oklahoma State with a score of 24-21.
While Dekkers' attorney, Mark Weinhardt, said that his client will plead not guilty to all charges, Dekkers has temporarily stepped away from the team.
"Hunter has informed the University and the coaching staff that he cannot participate in fall football camp so he can focus on his studies and on the defense of this criminal charge," Weinhardt stated.
If Dekkers misses any games, it is likely that redshirt freshman Rocco Becht will start for Iowa State. The team also has Tanner Hughes, a transfer from Butte College, and incoming freshman JJ Kohl on their roster.
Investigation Reveals Iowa State Wrestler Involved
Paniro Johnson, a sophomore wrestler, won the Big 12 Conference wrestling title in the 149-pound weight class last season. Johnson has also been accused of betting on Iowa State sports, with a total of 1,283 bets amounting to $45,640.
Dodge Sauser, a sophomore football player, served as an offensive lineman for Iowa State. Although he didn't play in any games during his career, Sauser also placed bets on Iowa State contests, amounting to $3,075 on DraftKings. Out of his bets, 12 were on Iowa State football games.
The investigation also revealed Uwazurike's involvement. Uwazurike, a star defensive lineman for the Iowa State Cyclones, placed at least 801 bets totaling $21,300 on Iowa State games he played in during the 2021 season.
Uwazurike was selected by the Denver Broncos in the fourth round of the 2022 NFL Draft. After a promising rookie season, he was expected to compete for a starting role on the defensive line. However, the NFL suspended him indefinitely in July for betting on NFL games. There is a possibility for him to seek reinstatement one year after the initial decision.
Uwazurike is now the tenth NFL player to receive a suspension for violating the league's gambling policy. Five players were suspended in April, followed by four more in June.
The initial complaint revealed that all four athletes from Iowa State attempted to hide their identities when placing bets. Furthermore, due to being underage, Dekkers, Johnson, and Sauser were accused of using third-party accounts to make their wagers.
DraftKings' mobile betting app was launched in the state of Iowa in February 2020.