Posted on: April 13, 2023, 02:46h. 
Last updated on: April 13, 2023, 02:46h.
The Irish Poker Open at the Royal Dublin Society in Dublin, Ireland, came to a successful close this week, with the main event drawing another record crowd. As David Docherty celebrates his big win and $394,200 prize, allegations that a high-profile player tried to cheat mar the tournament series.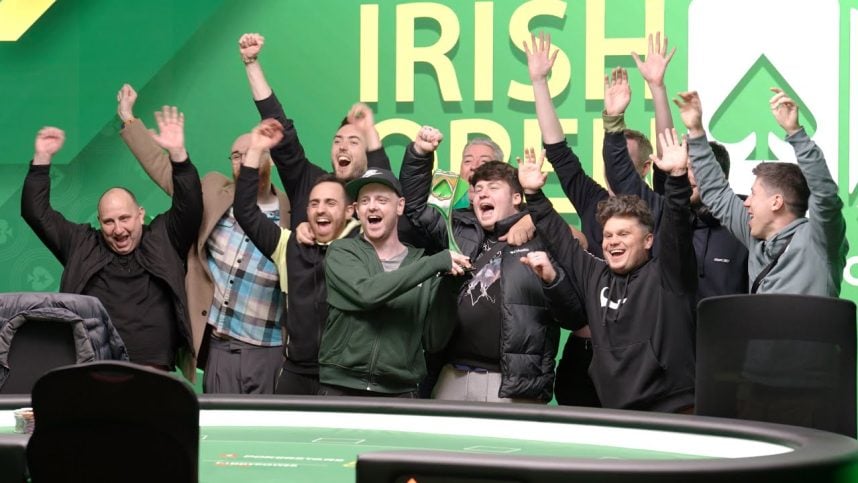 Docherty started at the lowest rung possible and worked his way up to the top to claim the top prize. He qualified for the tourney through a $109 satellite on PokerStars for a seat in the €1,150 (US$1,263) event.
It was a difficult journey to the top, as the Main Event saw its largest event to date. 2,491 participants descended on the poker tables, and the tournament not only broke the record for the biggest Irish poker event but also went down in history as the largest live tournament to be held in Ireland.
Breaking The Bank
The initial guarantee of €1 million (US$1.09 million) was easily broken by the turnout, which ultimately raised the prize pool to €2,428,725 (US$2.66 million). Capturing the largest single piece, Docherty pushed his total live poker earnings past $1.1 million.
At the beginning of Day 4, there were 16 players left. However, just a few hours later, the field was reduced to the final table of nine. Out of the remaining players, four had over 10 million chips, including Docherty, in second place with 12.7 million.
Through a number of tense rounds, several players hit the rail. Finally, Docherty found himself with only one more obstacle in his way. He would have to overcome Declan Rice, who went into the final table as the chip leader, to claim the top prize.
Docherty was in good shape to do it. He had roughly 2.5 times the number of chips Rice had, but all players know that poker is a fickle game. The tide turned when Rice grabbed the lead by winning with A-7 against Docherty's paired deuces after an Ace showing up on the river.
Docherty was quick to make a comeback, though. He subsequently doubled up in a river race. AK vs. A8 favored Rice on the turn when an 8 appeared, only to have Docherty pick up a flush on the river.
Rice had lost most of his chips and had to risk everything with only J-2. Docherty had a K-T and had no trouble making the call. The 8-6-2 flop gave Rice a pair and another 8 on the turn increased his advantage.
However, the river once again saved Docherty. A 6 gave both players two pair, but the eventual winner had the higher kicker to save the day. Rice pocketed $246,996 with his runner-up finish.
Will Kassouf Pouts At PLO Event
The poker world has had to deal with several cheating scandals lately. It's gotten so bad that there have been calls for a unified "black list" of banned players, with poker platform GGPoker and the state of Nevada getting involved.
Just wow! 😮 https://t.co/Ng2iN4xFoc pic.twitter.com/FN76VKenrW

— 🃏 David Lappin 🃏 (@dklappin) April 11, 2023
While Docherty was celebrating his win, another odd poker scandal began to emerge. Will Kassouf, a long-time poker player from England, allegedly tried to run off with his poker chips during a Pot-Limit Omaha (PLO) game after a couple of bad beats.
Kassouf has faced a number of scandals in his career and once tried to lift chips while playing roulette at a Grosvenor Casino. He denied any wrongdoing in the PLO game, saying he was "wrongly accused" and calling the allegations "absurd."
One of the biggest recent poker cheating scandals involved Robbi Jade Lew, Bryan Sagbigsal and Hustler Casino Live. Allegations that Lew cheated surfaced after she made a seriously odd call during a hand while holding no playable cards.
Sagbigsal was a Hustler employee who stole $15,000 in chips from Lew. He later admitted to the theft, but Lew refused to press charges and the case fell apart.
Lew promised to write a book about the experience, which she expected to release sometime this summer. However, If I Did It is now available for those who want to see the way the events unfolded through her rose-tinted glasses.