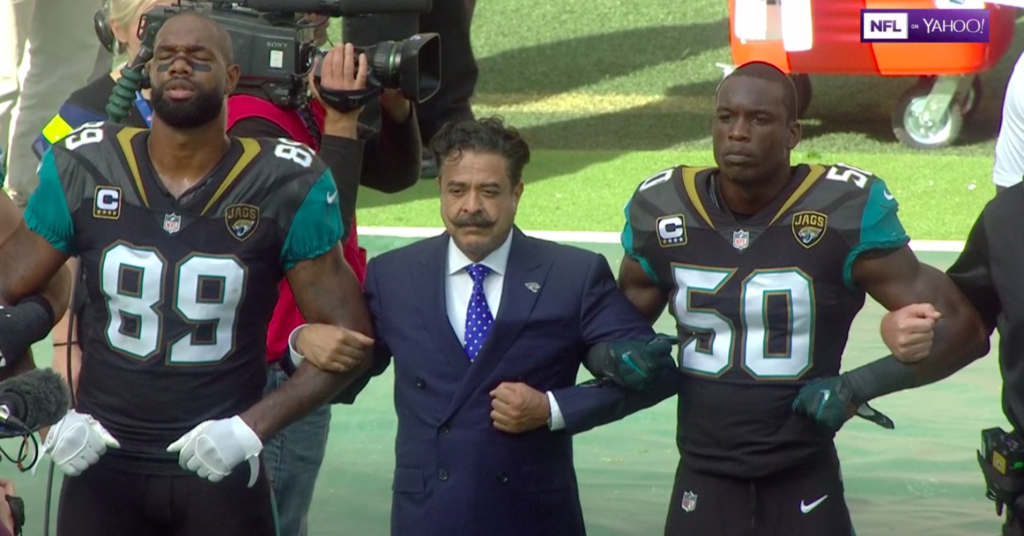 Shad Khan is the forward-thinking owner of the Jacksonville Jaguars. He may run one of the smallest market teams in the league, but he's helped to grow the value of his franchise exponentially by being the team that's embraced the London connection the most.
His team has a long-term agreement in place to play once a year across the pond which has helped to create two loyal fan bases.
On Thursday he was a presenter at the Yahoo Finance All Markets Summit in New York City and weighed in on the NFL's slow embrace of legalized sports betting as compared to some of the other leagues.
"You have to remember the history of NFL," said Khan. "The NFL has really been obsessed with the integrity of the sport. And it's taken a while for, you know, all the owners to get comfortable with it."
But if 2019 is any indication, that cold reception is quickly turning into a warm thaw. Just in this year alone, the league signed a major sponsorship agreement with Caesars in the United States and with international betting leaders Tabcorp to be the league's Official Wagering Partner in Australia.
They also announced a data sharing deal with technology leaders Sportradar who will now be able to sell official league data to sportsbooks. And just a couple of weeks ago, they made DraftKings the "official daily fantasy partner" of the NFL.
It's no wonder then that when Khan was asked if the NFL is finally ready to fully embrace legalized sports betting he said, "I think so now.".
Perhaps one of the lessons Khan has learned from getting to know the London market is the vast potential for live betting. That option has been available for years now, especially when wagering on soccer and tennis.
He certainly sees the potential to help him and his fellow owners make even more money saying, "There's a huge amount of during-the-event betting. So we look at maybe in-stadium, on a phone [betting], there'll be a huge amount of activity on that. And obviously, it's going to drive the values of franchises up."
As a result, Khan sums up the current reality of the NFL as it relates to its relationship with legalized betting as well as the health of the game, saying, ""I absolutely think the best days of the NFL are ahead of it, especially now with the international availability. It's just in its infancy. It's going to explode, in a good way."