Posted on: July 3, 2023, 09:42h. 
Last updated on: July 3, 2023, 09:42h.
Joey Chestnut, 39, is the Tom Brady of competitive eating, and that's why bettors are heavily backing the 15-time Mustard Yellow Belt winner to down the most hot dogs during tomorrow's Nathan's Famous International Hot Dog Eating Contest on New York's Coney Island.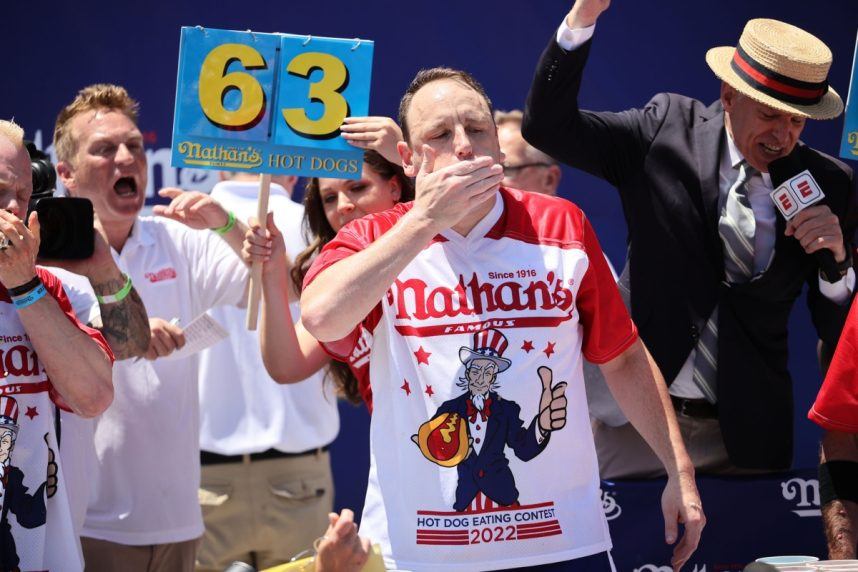 Chestnut won the 10-minute competition last year after managing to chow down 63 hot dogs and buns. Though a far cry from his world record of 76 dogs and buns that he stuffed his face with during the 2021 event, Chestnut still won last year's July 4 competitive eating spectacle by 20 hot dogs over his nearest competitor.
Chestnut has won the previous seven Nathan's hot dog eating competitions, and 15 of the past 16 events. His lone defeat came in 2015 when Matt Stonie beat him 62 to 60 hot dogs.
Little Appetite for Underdogs
Nathan's has been holding its iconic hot dog eating contest on Coney Island during the July 4 Independence Day holiday since 1979. The format was a 12-minute showdown when Takeru Kobayashi won his six consecutive titles from 2001 through 2006, with 53 dogs being his best performance.
Chestnut won in 2007 and has been top dog of the competitive eating world since. Chestnut isn't only good at watering down hot dogs and buns but a myriad of other food.
Chestnut holds 55 world records across 55 disciplines, according to Major League Eating, the preeminent organization that conducts competitive eating contests. A few of his notable world records include eating 53 Taco Bell beef soft tacos in 10 minutes, 182 chicken wings in a half hour, and 103 Krystal hamburgers in eight minutes.
Chestnut's feats have made him an almost sure-bet for tomorrow. Oddsmakers in New Jersey and other states where gaming regulators have signed off on allowing books to take action on the hot dog contest report there's been little appetite for the underdogs.
As a result, BetMGM in New Jersey has Chestnut at -5000 to devour the most frankfurters. A $100 winning bet on those odds would net just $2.
Geoffrey Esper has the next shortest odds of winning the Nathan's title at +1200. The same $100 bet would net $1,200 should the underdog pull of what would be one of the more unlikely upsets in recent sports history.
A more popular bet is wagering on how many dogs Chestnut will get down during the 10 minutes. BetMGM has Chestnut's over/under at 73.5 hot dogs, with the under at -120 and over at -105.
Nutrition Facts
The Nathan's hot dog contest uses the company's standard dog, which has 160 calories, 12 grams of fat (five grams of saturated fat), and 480 milligrams of sodium. The bun adds another 130 calories, 1.5 grams of fat, and 180 mg of sodium.
Assuming Chestnut gets 73 or so dogs down, he'll consume roughly 20,000 calories, more than 1,000 grams of fat, including 450 grams of saturated fat, and more than 50,000 grams of sodium.
The US Department of Health and Human Services and the Food and Drug Administration generally encourages adults to consume about 2,000 calories per day, with some fluctuation based on age, sex, height, weight, and physical activity level.