Posted on: May 12, 2023, 12:59h. 
Last updated on: May 12, 2023, 01:23h.
Kansas casino employees working at the state's four brick-and-mortar commercial gaming properties have formed a coalition to urge lawmakers in Topeka to close the indoor smoking loophole.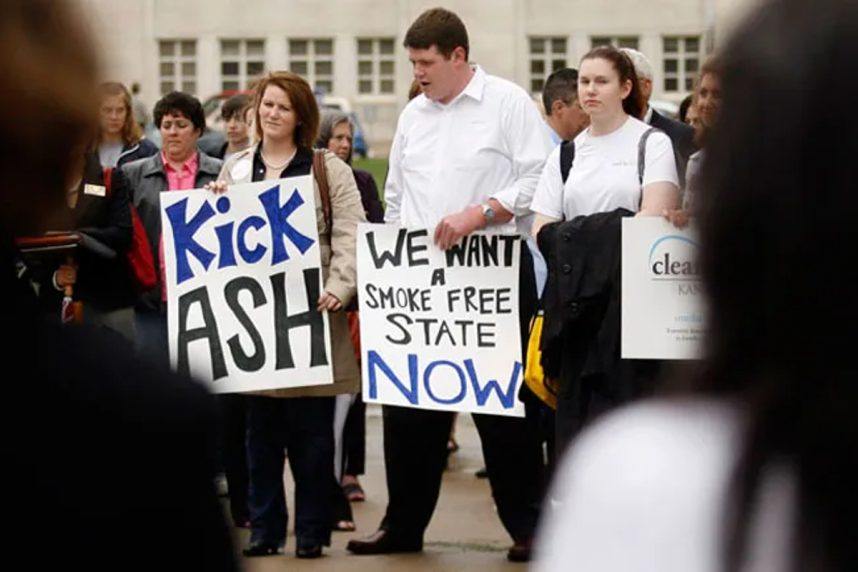 Kansas' Indoor Clean Air Act prohibits smoking in most public indoor places. The state law, which went into effect in July 2010, provides exceptions for gaming venues such as the state's four commercial casinos.
A grassroots group consisting of casino workers from the Hollywood Casino at Kansas Raceway, Kansas Star Casino & Resort, Boot Hill Casino, and Kansas Crossing Casino this week launched the Kansas chapter of CEASE, Casino Employees Against Smoking Effects.
CEASE was formed in 2021 in New Jersey in response to smoking being allowed to return inside the nine casinos in Atlantic City. The smoking comeback followed a temporary cessation of indoor casino smoking ordered by New Jersey Gov. Phil Murphy (D) amid the COVID-19 pandemic.
Group Expands to Midwest
CEASE is today lobbying several state governments to close indoor smoking loopholes afforded to commercial casinos. Along with its New Jersey and now Kansas efforts, CEASE has chapters in Pennsylvania and Rhode Island.
We are joining our peers from across the country and launching CEASE Kansas to demand a clean and safe working environment for the thousands of workers who are the backbone of the gaming industry," said Joe Hafley, founder of CEASE Kansas.
Hafley is a casino security officer who says his job requires him to frequent smoking sections.
"Even if I'm not stuck on a gaming table like some of my coworkers, I'm still forced to breathe secondhand smoke throughout my shift and go home smelling like cigarettes," Hafley continued. "For far too long, casino workers have been the only community of people who lack protections from the dangers of secondhand smoke in our workplace."
Efforts in the Topeka capital to eliminate casino smoking are already underway. Last month, an act that would remove casinos' exemption from the Kansas Indoor Clean Air passed the state Senate.
Though the Kansas Legislature concluded its 2023 session on April 28, the casino smoking statute is expected to be taken up in the state House when it convenes for the 2024 session in January.
State Gaming Regulators Neutral
The Kansas Racing and Gaming Commission (KRGC) said it has no formal position on the ongoing allowance of indoor casino smoking.
"As a regulatory body, KRGC is neutral on this issue and does not take a position. KRGC enforces state statutes and regulations, which currently allow for smoking on the casino floor," read a statement from Randy Evans, the KRGC's public information officer.
CEASE members say they've been forced to work in toxic environments long enough. And with Mother's Day being this Sunday, Nicole Vitola, a table games dealer at the Borgata in Atlantic City who cofounded- the organization, says enough is enough.
This weekend, as many celebrate and spend time with some of the most important women in their lives, countless mothers and even pregnant women will show up to their jobs in Atlantic City casinos and be forced to work in dangerous conditions as they breathe secondhand smoke," Vitola declared.
"After working in the casinos for 20 years, I know this reality firsthand. I worked in a casino throughout my two pregnancies, and in one horrible incident, was forced to work in a high roller room with six VIPs blowing cigar smoke in my face while I was visibly pregnant," she said. "I feared for my health and for the health of my unborn child."