Posted on: March 29, 2023, 09:57h. 
Last updated on: March 29, 2023, 09:57h.
Wednesday's Kentucky General Assembly session ended without the Senate bringing up the sports betting bill, which means supporters will have just one day left – Thursday – to make the Bluegrass State the 37th to legalize the gaming product.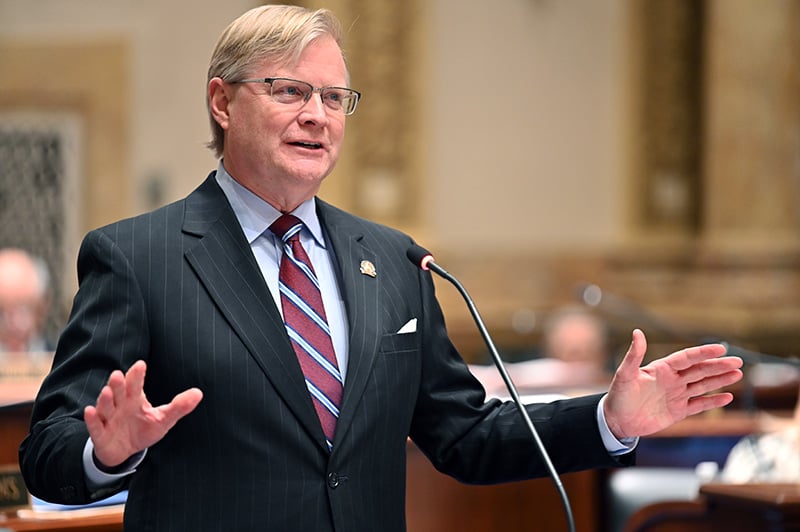 Rumors swirled around the Capitol in Frankfort about possible vote counts, with several people indicating supporters were just a member away from reaching the 23-vote threshold they need to pass House Bill 551 before the clock strikes midnight.
Senate Majority Floor Leader Damon Thayer (R-Georgetown) was asked repeatedly after the Senate adjourned for the night if they needed one vote to pass House Bill 551, sponsored by state Rep. Michael Meredith (R-Oakland). They're "close" is how he responded each time.
There are some undecideds, and I'm hopeful that with a good night's sleep and a fresh set of eyes that we can have the votes to pass it tomorrow," he told reporters after the session ended around 9:30 pm.
If the session wraps up Thursday without the Senate taking up the measure, efforts to legalize sports betting would have to wait until lawmakers return for the 2024 session in January. In addition, it would mark the second straight year where the Kentucky Senate did not vote on the bill before the session ended.
Democrats 'United' for Sports Betting
Thayer did say that all seven Democratic members of the chamber were on board with the bill, meaning the undecideds are among the 30 Republican members.
Minority Caucus Chair Reginald Thomas (D-Lexington) concurred.
"It appears to be that way," he told Casino.org after the session. "We've been united in terms of the important issues for the people this session… On this issue this is a critically important issue that Kentuckians want. I suspect that we (Democrats) will be together tomorrow."
Gov. Andy Beshear, a Democrat, has said he would sign a sports betting bill into law. His successful campaign for governor four years ago included calls for expanded gaming in the state.
If approved, HB 551 would allow the state's nine racetracks to operate retail sportsbooks at their facilities. In addition, they would be able to partner with up to three online operators apiece.
It needs 23 votes out of 37 members to pass because the state constitution requires any bill generating revenue or allocating funds that's being considered in a non-budget session must obtain at least a three-fifths majority.
Gaming Industry Lobbies Lawmakers
Lawmakers returned to Frankfort Wednesday for the final days of the session. The day before, American Gaming Association President and CEO Bill Miller sent a letter to each senator urging them to legalize sports betting.
The Sports Betting Alliance (SBA), a coalition of BetMGM, DraftKings, FanDuel, and Fanatics, has also been lobbying lawmakers. According to data from the Kentucky Legislative Ethics Commission, the SBA has spent $13,720 during the first two months of the legislative session. The group also spent nearly $68,000 last year to push for legalized sports betting.
Kentucky isn't the only state legislature that's considering legalizing sports betting. Measures are currently active in several states – most notably Georgia, Missouri, North Carolina, and Vermont.