Those who are regular at the online casino games might be aware of the Bovada group. There are at least four popular and reputed legit casinos, including Café Casino under the belt of Bovada group. Café Casino is in the news because of the celebrations that a gambler has won big prize money.
Jackpot Jazz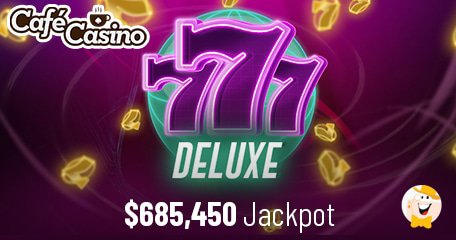 First about the jackpot prize money – the lucky player walked away with an impressive $685,450 while playing 777 Deluxe Jackpot. The jackpot money is not only attractive but the prize money is also the highest jackpot on this game until the date a player could grab.
About the Game
The slot game of the 21st century with the twists in the classic symbols of the game is a topic of the day because the highest jackpot money could fulfill someone's dream.
The average jackpot prize of 777 Deluxe was clocked for every nine days with prize money of $399,782. The preceding month has also witnessed the 2nd highest payout of $437,303.
The online casino slot game is very exciting to the player while the machine spins and the chances of jackpot prizes increase with the golden 777 symbols appearing on the screen of the player.
About the Winner
The player who won the highest payout of jackpot money did not identify himself so far. Therefore, the details of the players remain anonymous. However, inside information confirmed that the player is a regular visitor to the website of the siblings.
Café Casino
It might be true that the jackpot winner has made other regular players tizzy. There is no surprise if the players make a beeline to Café casino in the fond hope of making a big hit. Of course, you cannot rule out anything as far as the casino games are concerned.
In addition to the confidence that this casino is under the umbrella of Bovada group, it is legit with the license from the Kahnawake Gaming Commission. The players who want to maintain anonymity prefers Café Casino since you can transact with either Bitcoin or other cryptocurrency in addition to the fiat money.
The bonus and other promotional offers are very tempting with 500% Super Play Welcome Bonus. In addition, the affiliate programs of referring a friend can make you grow rich with irresistible offers.
Winning Spree
A preceding couple of months witnessed a sprint of fascinating jackpot wins – the world record progressive jackpot on Mega Moolah with a whopping jackpot prize of EUR 18,915,872.81 on Grand Mondial Casino. Further, the lady luck smiled at a PokerStars player by showering EUR 3.5 million on Mega Fortune of NetEnt.