Posted on: August 21, 2023, 08:44h. 
Last updated on: August 21, 2023, 08:44h.
The Tropical Storm formerly known as Hurricane Hilary may be causing chaos in southern California, with power outages and dangerous flooding. However, it had minimal impact on Las Vegas, despite initial warnings of potential flooding.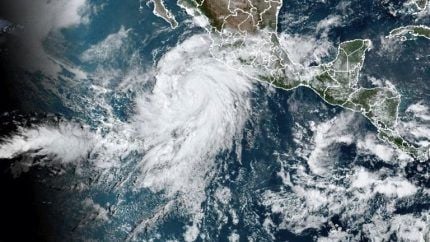 Due to hazardous weather conditions, 291 flights to and from Harry Reid International Airport were canceled on Sunday.
A video showing water rushing through the LINQ parking garage went viral on social media, but it should not be seen as a reflection of the overall situation. The LINQ is built above a natural waterway called the Flamingo Wash, which is designed to carry rainwater from the Las Vegas Valley to Lake Mead. Local residents are accustomed to flooding whenever it rains.
Sphere Remains Intact
Contrary to rumors, the Las Vegas sphere has not been damaged by the rain. The glitchy purple and black display seen on the giant LED screen is not a result of water damage but rather calibration or general testing issues, as seen in the past. Nevertheless, some Twitter users jokingly suggested putting the sphere in rice for safety measures.
Locals on social media mocked what they perceived as an overreaction to the storm.
Las Vegas has been absolutely devastated by several dark clouds. Please send thoughts and prayers," quipped Vital Vegas' Scott Roeben.
"So far this has been the most disappointing hurricane ever," tweeted the Las Vegas Locally account.
"We will rebuild," it added.
California Power Outages
However, in California, Hilary is a serious concern, with approximately 65,000 homes experiencing power outages. The risk of flash flooding will continue through Monday as the storm moves north.
According to the National Weather Service, Palm Springs received half a year's rainfall in just six hours on Sunday, and the emergency phone system was knocked out.
In addition, a magnitude 5.1 earthquake struck 80 miles northwest of Los Angeles on Sunday, causing no immediate reports of damage or injuries.
Hurricane Hilary was downgraded to a tropical storm after crossing the US-Mexico border on Sunday evening. It is the first tropical storm to hit California since Nora in 1997. Meteorologists predict it will continue north through the state before dissipating in northern Nevada on Monday night.