Posted on: July 26, 2023, 01:48h. 
Last updated on: July 26, 2023, 01:58h.
You can experience a unique form of golf next year on the Las Vegas Strip when Swingers Crazy Golf, an adult miniature golf attraction, opens inside Mandalay Bay. The venue will cover 40K square feet over three floors.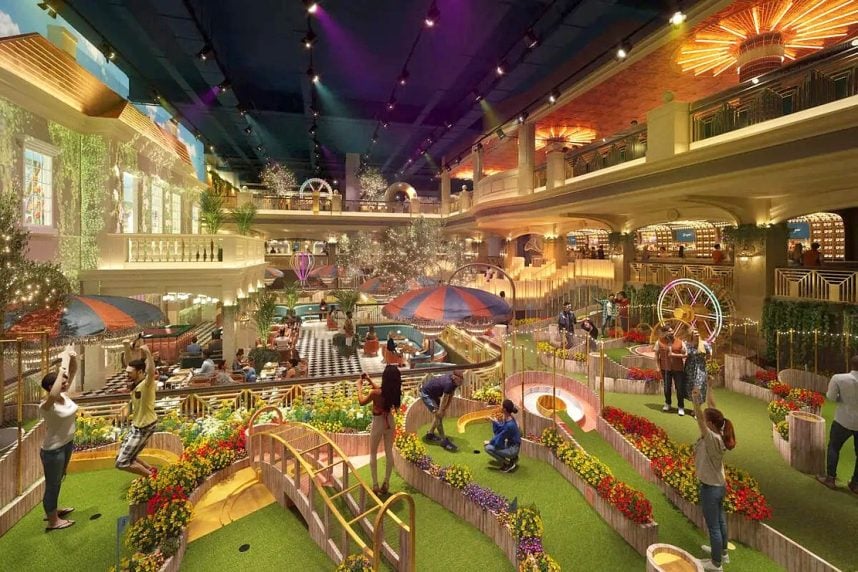 According to Bloomberg, Swingers will feature five indoor courses, live DJs, a food hall, and cocktails. The venue caters specifically to adults aged 21 and over, who can enjoy $17 frozen palomas while playing.
"Vegas is the home of entertainment globally, so we've always had one eye on it," stated Matt Grech-Smith, co-founder and co-CEO, in an interview with Bloomberg, where he revealed that MGM Resorts International had approached Swingers with the concept.
Swingers started as a pop-up location in an East London warehouse back in 2014. It currently operates five venues, with three in the US and two in London. The New York City location, situated under the Virgin Hotel, sees up to 8,000 players each week, as per the company. The cost for a round of golf there is approximately $24.
With its upcoming expansion, which will also include a presence in Dubai, the total investment is expected to reach $52 million, with funding coming in part from Cain International Advisers Ltd.
Pour!
"Our concept usually revolves around the English country golf club, so even though venues are indoors, they feel like they're outside and are covered in plants and trees," Grech-Smith explained. "For Vegas, we wanted to go bigger and better. Instead of the English country golf club, let's make it an English country house and make it the best house party that people have ever been to."
Swingers, a privately held company, anticipates generating $60 million in revenue this year and projects $150 million by 2026, potentially leading to a valuation of around $500 million.
"We're obviously feeling bullish about the future, and the fact that our investors have put a whole load more cash into the business shows that they are, too," Grech-Smith told Bloomberg.