Posted on: November 14, 2023, 11:44h. 
Last updated on: November 14, 2023, 11:44h.
Amazon, the world's largest online retailer and marketplace, has been named as a defendant in a proposed class-action lawsuit challenging the internet site's allowance of free-to-play social casino apps.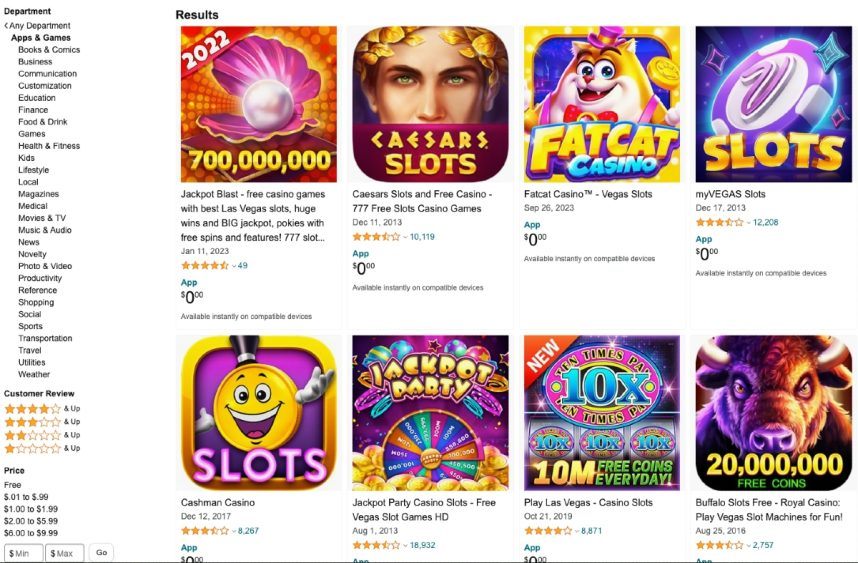 Plaintiff Steve Horn, a Nevada resident, alleges in his federal lawsuit that Amazon is conspiring with social gaming apps to rip off consumers who become addicted to the interactive slots. Horn's attorneys claim Amazon is leveraging the innocuous-sounding "free-to-play" model through alliances with social casino companies.
Most social gaming apps like Slotomania and DoubleDown Vegas Slots are free to download and initially play. But after a player loses their initial allotment of gaming credits, the apps often allow players to purchase additional gameplay tokens.
That money can never be withdrawn once deposited. Players also cannot win real money.
Horn believes Amazon is earning billions of dollars through an "illegal internet gambling enterprise" by receiving commissions from the apps.
Horn's lawsuit was filed in the Western District of Washington federal court. The lawsuit seeks damages to be determined at trial, plus restitution of players' losses. The lawsuit additionally seeks attorneys' fees and expenses.
A search on the Amazon Apps & Games Store for "slots" turned up more than 10,000 results.
Social Casinos Not Free
Horn contends in his lawsuit that Amazon shouldn't allow such apps in its online store.
Their business of targeting, retaining, and collecting losses from addicted gamblers is inextricably entwined with Amazon," Horn's attorneys wrote. "Amazon continues to maintain a 30% financial interest in the upside by brokering the slot machine games, driving customers to them, and acting as the bank. As such, Amazon is liable as a co-conspirator to an illegal gambling enterprise and conspiracy."
Horn says he became addicted to several social gaming apps, including Take 5 Vegas Slots, Lightning Link Casino, and Quick Hit Slots. Horn claims to have spent several hours a day playing the games on his computer and mobile devices and spent large amounts of money to continue his gameplay. Horn's lawsuit details that he made over 320 digital transactions for virtual chips between October 2022 and September 2023.
"Playing the illegal slots has had a devastating impact on Plaintiff Horn's life," the lawsuit declared.
Recent Social Gaming Lawsuit Winners
Courts have in recent years sided with plaintiffs in their legal arguments that social casinos and supposedly "free-to-play" interactive gaming apps violate state gaming laws.
In 2020, a federal judge in Washington sided with plaintiffs in a lawsuit against Big Fish Games, which was a leading provider of social games. In the $155 million class-action settlement, Judge Milan Smith said social gaming players were risking "something of value" by purchasing gameplay credits and that activity therefore constituted gambling.
"Without virtual chips, a user is unable to play Big Fish Casino's various games," Smith ruled. "Thus, if a user runs out of virtual chips and wants to continue playing … she must buy more chips to have 'the privilege of playing the game.'"
Churchill Downs acquired Big Fish Games in 2014 for $885 million. The company sold the social gaming unit four years later to Aristocrat Leisure for $990 million.
"Despite collecting millions in revenue, Churchill Downs, like Captain Renault in Casablanca, purports to be shocked — shocked! — to find that Big Fish Casino could constitute illegal gambling. We are not," Milan concluded.