Posted on: April 10, 2023, 01:17h. 
Last updated on: April 10, 2023, 01:17h.
Macau casinos rely heavily on visitation from mainland China. With Macau's borders now freely open to Chinese people, as well as travelers coming from Hong Kong and Taiwan, the enclave is as busy as it's been since COVID-19 arose more than three years ago.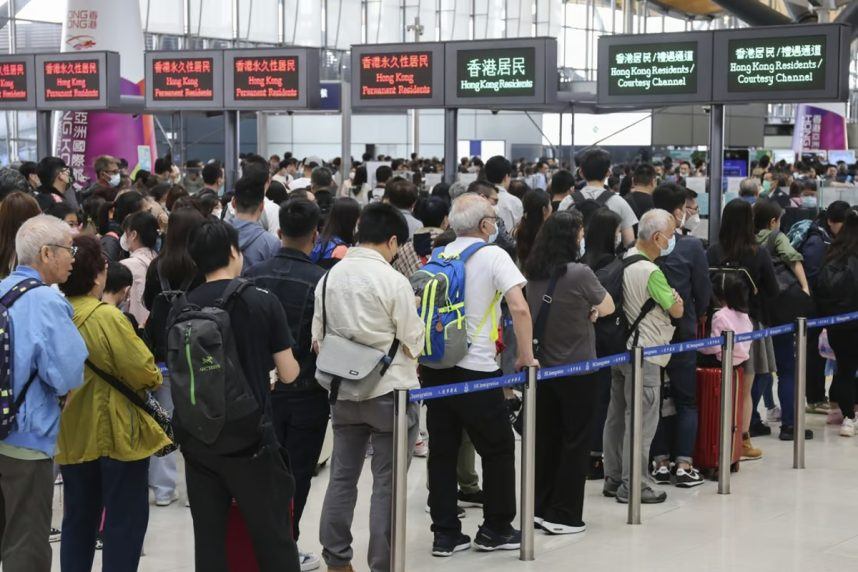 The Macau Government Tourism Office (MGTO) over the weekend said the Chinese Special Administrative Region (SAR) welcomed almost five million guests during the first three months of the year. The government agency detailed that approximately 4.96 million people traveled to Macau during the quarter.
Macau welcomed a total of 7.7 million guests in 2021 and 5.7 million in 2022. The region experienced its largest COVID-19 outbreak last year, and because the enclave at the time was still adhering to China President Xi Jinping's "zero-COVID" policy, the virus spread resulted in Macau temporarily closing its borders and shuttering its casino resorts.
The mainland accounted for about six in 10 visitors to Macau during the January through March 2023 period. Hong Kong accounted for about 30% of the visitor numbers. The remaining 10% came from Taiwan and foreign markets.
Macau is open to international travelers, but anyone not originating from China, Hong Kong, or Taiwan must still present a negative COVID-19 test for entry.
Trending Positively
Visitation continues to recover. The MGTO said about 1.39 million travelers entered the SAR in January, about 1.59 million in February, and 1.98 million in March.
Gross gaming revenue for the six casino licensees has also improved during that time. Casino win in January, which included the 2023 Chinese New Year, totaled about $1.4 billion. Casinos won approximately $1.3 billion in February, which had three fewer days than January, and $1.6 billion in March.
Last month marked Macau's richest monthly gaming performance since the onset of the COVID-19 pandemic in late 2019.
But the approximately $4.3 billion in casino revenue that the properties won during the first quarter has a way to go to catch up to 2019 business. During the 2019 first quarter, casino GGR totaled more than $9.4 billion.
VIP Takedown
Macau's future remains uncertain after the local government last year while issuing the six casinos fresh tenders mandated that the operators mutually spend at least $13.5 billion on non-gaming projects. The directive is part of an ongoing effort by Beijing officials and Macau's local government to lessen the enclave's economic reliance on casino gambling.
The casinos adhered to the non-gaming order, which will force them to focus much more on the non-VIP gambler. Fewer high rollers are expected to be in town this year and in the future after Macau and China essentially forced out junket groups that had kept Macau's VIP gaming rooms occupied for many years.
The junket pressure came as a result of Xi expressing concerns that such travel organizers have helped wealthy mainlanders move their riches out from underneath the heavily taxed oversight of the Communist Party.
Macau is considered a tax haven because of its favorable tax laws and policies. Though Macau is a SAR of China, the enclave has economic and financial independence through its "one country, two systems" arrangement with Beijing.