Clark County's Gross Gaming Revenue Surges 7.5% YoY in July
Posted on: August 31, 2023, 04:07h. 
Last updated on: August 31, 2023, 04:07h.
According to the latest report from the Nevada Gaming Control Board (NGCB), Clark County's gross gaming revenue (GGR) experienced a significant surge of 7.5% year-over-year, reaching a record-breaking $1.208 billion in July. Out of this total, $835 million was contributed by the famous Las Vegas Strip. The US casino center is expected to maintain this impressive pace, according to industry analysts.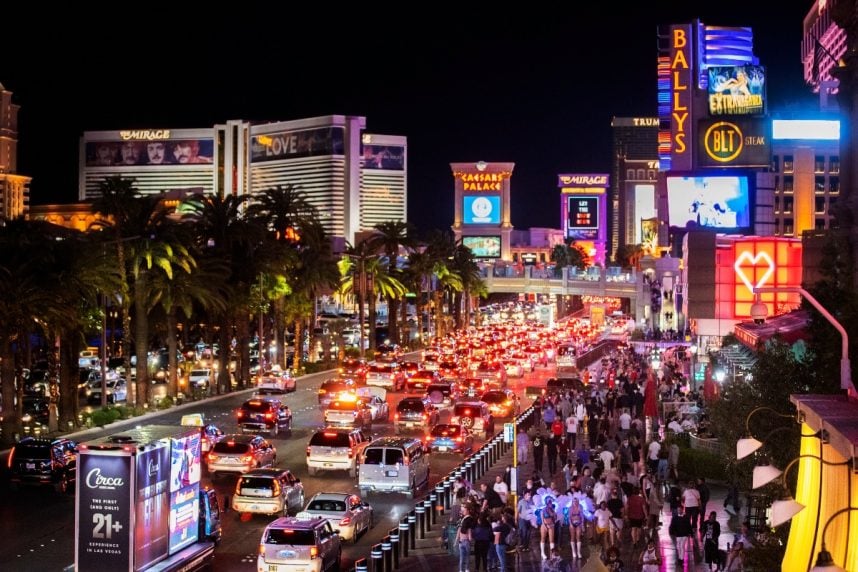 In a recent client report, Macquarie analyst Chad Beynon highlighted the positive performance of non-gaming sources, particularly revenue per available room (RevPar), in the Las Vegas Strip. This is essential for operators such as Caesars Entertainment (NASDAQ: CZR), MGM Resorts International (NYSE: MGM), and Wynn Resorts (NASDAQ: WYNN) which have extensive hotel footprints in the area.
"On the non-gaming side, Strip RevPar was +4% in July while Aug STR data suggests it will be another strong month on the Strip, setting operators up for mid-single digit RevPar growth in 3Q," commented the analyst. "This is consistent with July's record month for passengers at Las Vegas' airport including the most international passengers since Jan 2020."
Although Caesars, MGM, and Wynn suffered from challenging performances in August, analysts anticipate a rebound for these operators by the end of the year.
Caesars and MGM Highly Recommended by Macquarie
As the two largest operators on the Strip, Caesars and MGM are strongly influenced by trends such as increased GGR and non-gaming revenue.
Macquarie's Beynon is bullish on both companies, rating them as "outperform." He has set a price target of $70 for Caesars, indicating a potential upside of 26.6% from the current closing price. The analyst's price forecast for MGM is $60, suggesting an upside of 36.3% from today's close.
With an exciting lineup of events scheduled for the next few months, the Strip operators, including Caesars and MGM, could experience further revenue growth.
"We believe the return of conventions and a strong sports/event calendar over the next couple of years (e.g., NCAA men's Division I basketball tournament games, Formula 1, LV Raiders and Golden Knights games, 2024 Super Bowl, and others) should provide support and growth for Strip GGR and non-gaming revenues," Beynon added.
Positive Results Across Different Markets
While the focus has been primarily on the Strip, other markets in Nevada also witnessed impressive results. Las Vegas locals and downtown areas displayed significant year-over-year growth in GGR, with increases of +6% and +9%, respectively. Reno/Lake Tahoe and Laughlin also reported gains, with growth rates of +7% and +9%.
Although Caesars and MGM do not operate downtown venues, and MGM does not have a presence in Reno/Lake Tahoe or Laughlin, these markets are relevant to Caesars due to its operations in those areas.