Sex Worker Arrested for Attempted Murder at Caesars Palace
Posted on: November 3, 2023, 08:55h. 
Last updated on: November 3, 2023, 08:55h.
A sex worker has been apprehended and is currently in jail after being charged with attempted murder, robbery, and residential burglary. The incident occurred at Caesars Palace Las Vegas, where the woman beat and robbed a wheelchair-bound man. The victim suffered severe injuries and required immediate medical attention.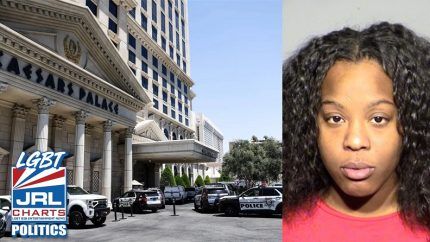 The suspect, identified as Napria Wilson, 26, also stole approximately $6,000 from the victim. The incident came to light when a hotel security guard discovered the injured man in his room. It is believed that Wilson and the victim met on the gaming floor before proceeding to the room where the crimes took place.
Details of the Incident
Preliminary investigations suggest that after receiving payment for sexual acts, Wilson demanded more money from the victim. When he refused, an argument ensued, and Wilson resorted to physical violence. She then seized the opportunity to steal the victim's wallet before fleeing the scene.
The victim, with multiple broken bones, extensive bruises, and swollen eyes and hands, was rushed to a nearby hospital for treatment. Officers from the Las Vegas Metropolitan Police Department launched an investigation, reviewing hotel surveillance footage that confirmed Wilson's involvement. The footage captured her leaving the hotel room, entering an elevator, and eventually leaving the hotel in a taxi.
Arrest and Prosecution
Thanks to collaboration with the taxi company, authorities were able to locate and apprehend Wilson. She was subsequently booked at the Clark County Detention Center and now awaits trial. If convicted, Wilson could face a significant prison sentence.
It remains unknown whether Wilson had any prior criminal record or if this was her first offense. The victim's condition following the incident was not immediately updated, making it uncertain if he requires surgery for his injuries.
As the case progresses, further details will emerge, shedding light on the outcome of this shocking incident.