Posted on: September 7, 2023, 12:08h. 
Last updated on: September 7, 2023, 12:08h.
A player from Baltimore County has claimed her second major "Pick 5" prize in two years. In the August 10 drawing, she won a jackpot of $50,000, according to Maryland Lottery officials.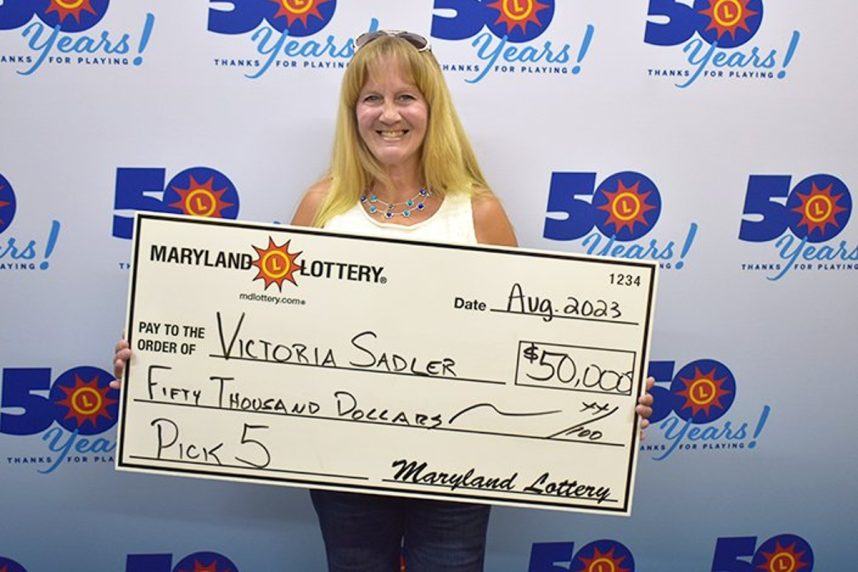 Pick 5 is a popular game in Maryland, drawn twice daily. Players choose five numbers from 0-9 and select from various wagering options. Each wager requires a bet ranging from $0.50 to $1.
Victoria Sadler, 59, is no stranger to Pick 5 payouts. Last year, she won a $25,000 prize by selecting the straight bet and matching the five drawn numbers in order. Her winning ticket only cost $0.50.
Encouraged by her previous win, Sadler continued playing the Maryland Lottery and her decision paid off. She secured an even larger prize of $50,000 last month.
Grandson Delivers Lucky Run
Sadler revealed that she raised her wager to $1 per Pick 5 game. On August 10, she purchased a Pick 5 ticket at the Royal Farms convenience store in Baltimore and selected the straight bet option.
Her ticket, with the numbers 1-1-1-6-4, matched the drawn numbers in order and she claimed the game's top prize of $50,000.
Sadler shared that she has a lucky strategy for her Pick 5 plays. She uses her grandson's birthdate, January 11, and the digits 6-4 to represent her own birth year, 1964.
With $75,000 in lottery winnings in the past two years, Sadler plans to invest the funds, but not before treating her family to a trip to Walt Disney World in Florida, including her grandson.
The odds of winning the Pick 5 straight bet are one in 100,000.
Bonus 5 Double Winner
Another lucky lottery player in Maryland recently experienced a winning streak. An anonymous Montgomery man won his second major prize playing the "Bonus Match 5" game, according to the lottery officials.
Bonus Match 5, played seven nights a week, involves selecting five numbers from one to 39. A Bonus Ball is then drawn from the remaining 34 numbers.
The anonymous winner, known only as "Mr. Happy," is a nurse who purchased a $6 Bonus Match 5 ticket on August 16 during his break. The drawn numbers, 7-14-29-35-39, along with the Bonus Ball 37, matched his ticket to win the game's top prize of $50,000.
The odds of winning the Bonus Match 5 jackpot are one in 575,757.
Mr. Happy plans to use his winnings to pay for his sons' college tuition and pay down his mortgage.