Merging of U.S. Integrity and Odds on Compliance Announced by Leading Sports Betting and Gaming Compliance Providers
Posted on: October 5, 2023, 09:57h. 
Last updated on: October 5, 2023, 09:59h.
U.S. Integrity and Odds on Compliance, the industry's largest providers of sports wagering and gaming compliance services, have announced their merger plans. This strategic move aims to create a powerhouse of expertise, innovation, and comprehensive solutions for betting operators, professional sports organizations, and collegiate sports organizations in the dynamic world of sports betting and gambling compliance. The financial details of the transaction have not been disclosed, and the merge was partly expected following the collaboration of the two companies on ProphiBet, the game-changing prohibited bettor solution. The transaction is expected to be finalized by the end of this month.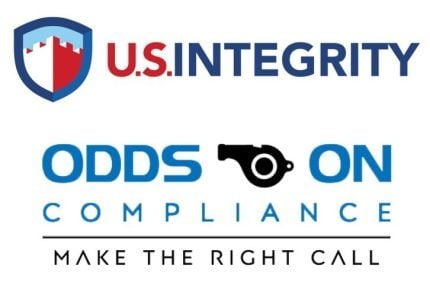 The Expanding Market Opportunity for Sports Betting Compliance
Given the recent controversies surrounding college and professional athletes in the realm of sports betting, there is a growing demand for compliance services. This situation may present a favorable environment for the combined entity of U.S. Integrity and Odds on Compliance, positioning them for success in this burgeoning market.
U.S. Integrity boasts an impressive roster of clients, including college conferences, individual teams, professional leagues, and sportsbook operators. Notable names on their client list encompass Monarch Casino Black Hawk, William Hill, the NBA, the Big12, the PAC12, and the SEC, among others.
Similarly, the ProphiBet unit has rapidly attracted new customers since its launch on September 1st. It has successfully secured partnerships with many sports properties and operators, including the BIG12, UFC, AAC, and Hard Rock Digital, among countless others.
Rising Demand for Sports Wagering Compliance
Discerning bettors understand that winning every sports wager is simply unrealistic. However, it is crucial for them to know that their bets are placed on a fair and level playing field, making integrity paramount. Unfortunately, instances of match-fixing occasionally tarnish the industry. In an effort to prevent such scandals, gaming companies are highly motivated to prioritize compliance. In light of this, the potential for sports wagering compliance is immense. U.S. Integrity, backed by notable investors including Las Vegas Sands, SeventySix Capital, and the New York Angels, collaborates with major professional sports leagues, collegiate conferences, licensed sports-betting operators, and regulators.
Last year, Las Vegas Sands acquired a stake in U.S. Integrity, while SeventySix Capital and Tekkorp Capital are investors in Odds On Compliance. Tekkorp Capital specializes in investing in both public and private companies associated with the esports and gaming industries.