Posted on: October 11, 2023, 10:45h. 
Last updated on: October 11, 2023, 10:45h.
MGM Resorts CEO Bill Hornbuckle states that the cyberattack on the casino company's IT systems is now in the past.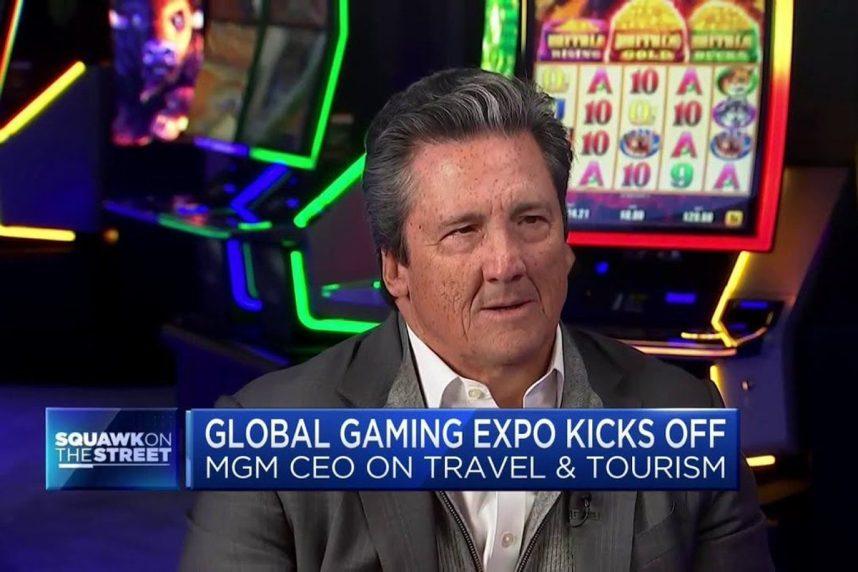 During an interview at the Global Gaming Expo in Las Vegas, MGM CEO Bill Hornbuckle revealed that the casino operator has successfully overcome the recent cyberattack and is now operating normally.
According to Hornbuckle, the cyberattack is completely behind us. It was a challenging three-week period, but we have moved on," Hornbuckle assured viewers.
Hornbuckle expressed hope that the incident was a one-time occurrence and stated that MGM is focused on the future. Although the attack had a significant impact in September and will have some lingering effects in October, MGM's Las Vegas casinos and regional properties have rebounded quickly. The company's Las Vegas Strip casinos were fully booked last weekend, and occupancy rates in October are expected to exceed 90%.
CEO Claims Matter Resolved
In an interview with CNBC's Contessa Brewer at the Global Gaming Expo, Hornbuckle discussed MGM's efforts to prevent future attacks following the recent cybercrimes targeting MGM and Caesars Entertainment.
Hornbuckle stated, "Moving forward, we have work to do in terms of restructuring and rebuilding. However, we are extremely confident in our current level of safety and security."
According to a filing with the US Securities and Exchange Commission (SEC), MGM estimates that the cyberattack will result in approximately $100 million in lost revenue. However, this loss is expected to be covered by MGM's cyber insurance policy.
The filing also mentioned that MGM incurred around $10 million in expenses related to the cyberattack. Unlike Caesars, MGM chose not to pay a ransom to the cybercriminals.
The cyberattack caused significant disruptions across the entire resort, including disabled slot machines, offline voucher printing, suspended online room reservations, and inaccessible digital room keys.
Resilience of MGM and Las Vegas
When asked about potential concerns regarding privacy leading to guests choosing alternative accommodations, Hornbuckle expressed confidence in the strength of the MGM brand. He cited the resilience of MGM and Las Vegas in overcoming previous challenges, such as the 2017 mass shooting and the COVID-19 pandemic.
MGM and Las Vegas have always demonstrated resilience. We have faced numerous obstacles, and this incident, unfortunately, is just one more. However, it is now behind us, and we are focused on the future," Hornbuckle stated.
Regarding ongoing union negotiations, Hornbuckle emphasized the importance of reaching a resolution that benefits all parties involved.