Posted on: July 4, 2023, 06:08h. 
Last updated on: July 4, 2023, 06:08h.
Fanatics founder Michael Rubin has expanded his luxury real estate holdings by purchasing a Hamptons mansion for $50 million.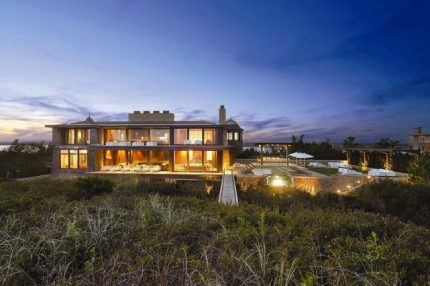 Located in the Hamptons on East Long Island, this mansion is a popular spot for wealthy New Yorkers and celebrities. Rubin bought it from HFZ Capital Group's Ziel Feldman, who made extensive changes to the property, resulting in an 8,000-square-foot house with seven bedrooms and four bathrooms. The house was previously sold in 2000 for $4.35 million, according to the New York Post.
This is not Rubin's first venture into high-end New York real estate. In 2018, he purchased a downtown Manhattan penthouse for over $40 million, setting a record price for the area.
Rubin's Hamptons house is situated near properties owned by Beyonce and Jay-Z, Ben Affleck and Jennifer Lopez, and New England Patriots owner Bob Kraft.
Rubin, 50, was born outside of Philadelphia, and his company, Fanatics, is based in Florida. His estimated net worth is $3.5 billion.
Rubin Utilizing Hamptons Mansion for Events
Rubin inaugurated his new Hamptons residence by hosting a Fourth of July "White Party," which attracted numerous athletes and celebrities.
Guests included Jay-Z, Beyoncé, retired NFL legend and Las Vegas Raiders minority owner Tom Brady, French soccer star Kylian Mbappé, a variety of NBA players, and Leonardo Di Caprio.
Rubin previously held minority stakes in the NBA's Philadelphia 76ers and the NHL's New Jersey Devils, but he sold those interests last year to avoid potential conflicts of interest as Fanatics ventured into regulated sports wagering. Reports suggest he earned $300 million from divesting his 10% holdings in those teams.
Fanatics is valued at $31 billion in private markets. Notably, its investors include the four major US sports leagues – Major League Baseball (MLB), the NBA, NFL, and the NHL – as well as Major League Soccer (MLS). Other investors consist of Silver Lake, SoftBank, BlackRock, Fidelity, and MSD Partners, an investment vehicle controlled by Dell founder Michael Dell.
Rubin Takes a Break After Busy June for Fanatics
Perhaps the White Party at the Hamptons mansion was Rubin's way of unwinding and spending time with famous friends after a hectic June for Fanatics.
His company eventually emerged as the victor in the bidding for PointsBet's US operations, but only after increasing their offer to $225 million in cash.
It was necessary for Fanatics to raise their bid as rival DraftKings entered the competition with a $195 million offer that surpassed Fanatics' initial proposal by a wide margin.
Speculation arose that the involvement of DraftKings co-founder and CEO Jason Robins in the PointsBet US sale process was simply an attempt to create obstacles for Fanatics, due to long-standing tensions between Rubin and Robins.