Posted on: April 21, 2023, 08:39h. 
Last updated on: April 21, 2023, 09:20h.
New York Mets starting pitcher Max Scherzer earned a 10-game suspension by MLB for using an illegal substance against the Los Angeles Dodgers on Wednesday.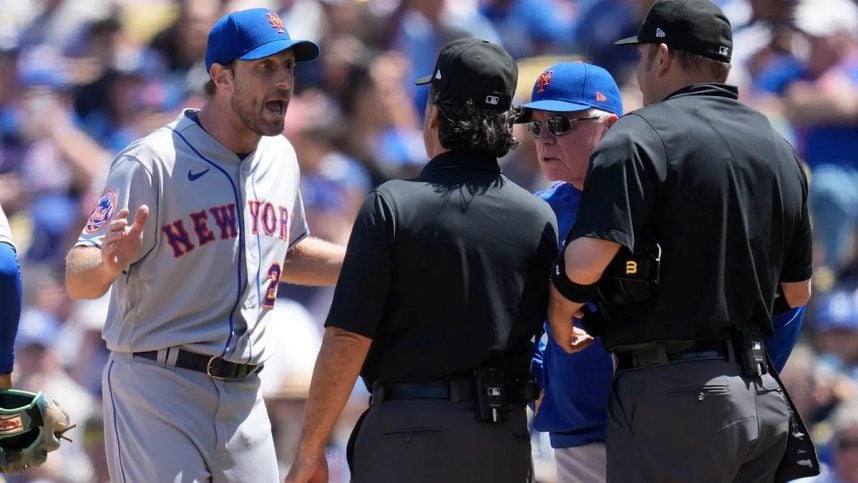 Umpire Phil Cuzzi ejected Scherzer prior to the fourth inning because his hands were too sticky. Scherzer insisted he didn't use any illegal substances aside from rosin mixed with human sweat. Pitchers are permitted to use rosin to improve their grip on the baseball.
In four starts with the Mets this season, the right-handed Scherzer posted a 2-1 record with a 3.12 ERA and 1.08 WHIP.
Scherzer is a three-time Cy Young winner who won the 2019 World Series with the Washington Nationals. He signed a three-year deal worth $130 million with the Mets prior to last season. He battled injuries last season and only started 23 games, but went 11-5 with a 2.29 ERA and 0.91 WHIP.
Wednesday Drama at Dodger Stadium
On Wednesday, the Mets were scheduled to complete a three-game series against the Dodgers in Los Angeles. The two squads squared off in a sunny day game in front of a boisterous crowd that had a healthy mix of Mets fans.
Cuzzi inspected Scherzer after the second inning and asked him to wash his hands because they were sticky. Scherzer insisted he wasn't using any illegal substances, and said the buildup was from the rosin bag, sweat, and a little sunscreen.
Scherzer cleaned his hand using an alcohol-based wipe in front a MLB official. After the third inning, Cuzzi inspected Scherzer's hands and glove. Cuzzi said the glove was too sticky due to excessive rosin, and told Scherzer to swap out gloves. Scherzer complied and changed his glove.
Scherzer was inspected before he took the mound in the fourth inning. Cuzzi ejected Scherzer because his hands were even more sticky than when he initially checked him after the second inning. Scherzer once again insisted it was just rosin and sweat.
"I knew I was going to get checked before the fourth," said Scherzer. "I'd be an absolute idiot if I try to do anything before the fourth."
It really doesn't matter to us what it is," Cuzzi told reporters after the game. "All we know that it was far stickier than anything that we felt certainly today and anything this year."
Scherzer pitched three shutout innings against the Dodgers before his ejection. He gave up one hit and walked two batters while striking out three.
Curious Case of Phil Cuzzi
MLB officials began cracking down on pitchers using illegal substances to get a better grip on the baseball and induce a higher spin rate. Pitchers are only allowed to use the rosin bag behind the pitcher's mound, and using anything else could warrant an ejection.
Many pitchers apply sunscreen lotion on their arms. When the lotion is mixed with sweat and rosin, it forms a sticky-like substance. Pitchers have been using that method for more than half of a century, and umpires look the other way with the exception of Cuzzi.
I hope that we can modify the rule," said Scherzer. "The intent of this rule was to try to clean up the game, clean up the stuff that was really causing spin rates to spike and all that stuff. I don't think it was intended to crack down on pitchers that were using legal substances. I used legal substances."
Prior to Scherzer's ejection on Wednesday, only two other pitchers were tossed from a game due to the newly-enforced substance rules. Both other instances involved Cuzzi in 2021. He ejected pitchers Hector Santiago from the Seattle Mariners and Caleb Smith from the Arizona Diamondbacks for illegal substance violations.
"No one can explain what is too sticky," said Scherzer's agent Scott Boras. "There are no units of stickiness to quantify. How do you appropriately enforce? MLB attempts to level the playing field by using standards that are not measurable. Further, one umpire has a stickiness standard that is different than all other umpires."
Amazin' Mets on the Futures Market
Scherzer is expected to miss at least two starts while serving a 10-game suspension. News about his suspension didn't alter the futures market.
The Mets had a short-handed starting rotation prior to losing Scherzer. Right-handed ace Justin Verlander has yet to take the mound this season. He's been on the IL with a strained muscle in his right shoulder, and the Mets expect him back by the start of May.
The Mets were only 5-5 after the first 10 games but turned around their season in the last 10 with an 8-2 clip. The Mets are currently in second place in the NL East behind the Atlanta Braves (14-5) and are fourth overall in the National League.
The Mets are +850 odds to win the 2023 World Series and are the fourth-highest team on DraftKings' futures board.
The Braves are the consensus favorite to win the National League pennant at +280 odds while the Mets are second overall at +400.
Oddsmakers anticipate a two-team race to win the NL East division title. The Braves are also the betting favorite to win the NL East at -165 odds. The Mets are right behind them at +165 odds.
Before the season began, the Mets had a win total of 93.5 over/under according to DraftKings. The Mets were the fourth-highest team overall and tied with the San Diego Padres and New York Yankees.