Published: September 8, 2023, 03:59h.
Last updated: September 8, 2023, 03:59h.
DraftKings to Sponsor NFL RedZone, the Popular Look-In Show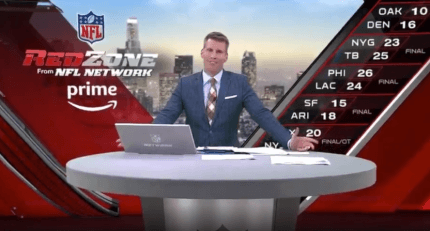 According to reports, DraftKings will become the presenting sponsor of the NFL Network's "NFL RedZone," the popular show that allows viewers to watch multiple games simultaneously. While no official announcement has been made by the gaming company or the league, various media outlets have reported on the partnership. DraftKings will take over the marquee sponsorship role of the show, previously held by Amazon Prime Video in 2022. The financial terms of the deal remain undisclosed.
Scott Hanson kicks off your Sunday with 7 hours of live football, featuring up to 8 games at once within the octobox. NFL RedZone brings you every touchdown from every game, every Sunday afternoon during the regular season and acts as the perfect Fantasy Football companion. Watch from anywhere across NFL.com, NFL Mobile, and other connected devices," according to the NFL.
The 2023 NFL season began with the Detroit Lions defeating the Kansas City Chiefs, 21-20.
Why DraftKings' Sponsorship of NFL RedZone Matters
While many sports betting companies engage in marketing partnerships with professional leagues and teams, the agreement with "NFL RedZone" stands out as it offers DraftKings a unique advertising opportunity. Unlike other programs, "NFL RedZone" does not run commercials during broadcasts, making it popular among fans. As a result, the NFL Network may explore other avenues for DraftKings integration, potentially including odds and player updates.
The partnership with "NFL RedZone" strengthens DraftKings' ties with the most popular domestic sports league. This agreement is separate from the previous deal made in 2021, making DraftKings one of the league's official sportsbook partners, alongside FanDuel and Caesars Sportsbook.
During the 2023 season, "NFL RedZone" will only be available on the NFL Network, as the DirecTV version didn't survive the move of NFL Sunday Ticket to YouTube. The show can also be streamed on five platforms with which NFL Network has agreements.
Could "NFL RedZone" be a Replacement for ESPN for DraftKings?
The recent partnership between DraftKings and "NFL RedZone" may also serve as a replacement for the gaming company's previous arrangement with ESPN. When ESPN announced its new sports wagering deal with Penn Entertainment, previous agreements with Caesars Sportsbook and DraftKings came to an end. The termination of the ESPN agreements could result in cost benefits for these gaming companies, potentially redirecting resources towards the "NFL RedZone" deal.