Posted on: July 11, 2023, 11:31h. 
Last updated on: July 11, 2023, 11:31h.
Northwestern terminated the employment of head football coach Pat Fitzgerald following a hazing scandal involving players that severely impacted the school. Consequently, Northwestern's chances of winning the Big Ten Championship plummeted, with odds of +20000, making them a major long shot.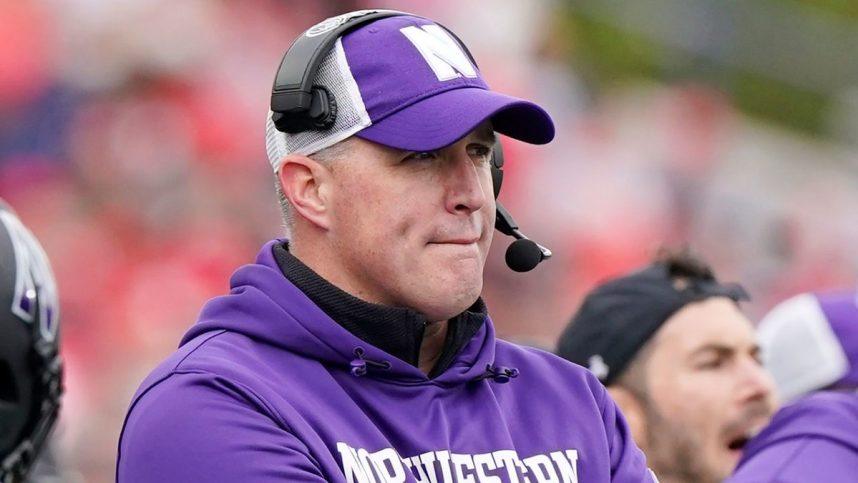 Fitzgerald, who was previously a standout linebacker at Northwestern, became head coach in 2006. Over his 17 seasons in charge, Fitzgerald accumulated an overall record of 110-101, with a 65-76 record in Big Ten play.
Under Fitzgerald's leadership, Northwestern achieved first-place finishes in the West Division twice since 2018. They also received invitations to 10 bowl games, winning their last four appearances. Fitzgerald's bowl game record stands at 5-5.
After qualifying for the Citrus Bowl in the 2020 season and defeating Auburn, Northwestern struggled in the past two seasons. They went 3-9 in 2021 and 1-11 in 2022, with a 1-8 conference play record in each of those seasons.
Defensive coordinator David Braun is expected to serve as interim head coach. Fitzgerald was the fifth-longest tenured head coach in the FBS, spending a total of 26 years at Northwestern, including four as a player and five as an assistant coach.
Fitzgerald Initially Suspended for Two Weeks
Initially, an anonymous whistleblower, a former member of the football team, made allegations about hazing experiences during their freshman season.
In January, Northwestern hired an external law firm to conduct a six-month investigation into the hazing allegations. Led by attorney Maggie Hickey from the ArentFox Schiff law firm, the investigation concluded that there was insufficient evidence of Fitzgerald or the coaching staff's knowledge of the hazing incidents.
"The investigation did not find evidence pointing to specific misconduct by any individual football player or coach, but participation in or knowledge of the hazing activities was widespread among football players," stated the final summary.
At least 11 former Northwestern players confirmed that hazing was prevalent within the football program, leading Northwestern to ultimately hold Fitzgerald responsible. As a result, university president Michael Schill suspended him without pay for two weeks.
The head coach is ultimately responsible for the culture of his team," Schill wrote in an open letter to students and alumni. "The hazing we investigated was widespread and clearly not a secret within the program, providing Coach Fitzgerald with the opportunity to learn what was happening. Either way, the culture in Northwestern Football, while incredible in some ways, was broken in others."
"Northwestern football prides itself on producing not just athletes, but fine young men with character befitting the program and our University," Fitzgerald said last Friday. "We hold our student-athletes and our program to the highest standards; we will continue to work to exceed those standards moving forward."
Schill Reverses Course After Article, Fires Fitzgerald
The Daily Northwestern published an article over the weekend that extensively detailed the hazing and sexual abuse of players. The article quickly gained traction, and numerous students and alumni expressed disappointment with the initial decision, calling for Fitzgerald's dismissal. After a meeting of the board of trustees, Schill reversed course and fired Fitzgerald.
The hazing included forced participation, nudity, and sexualized acts of a degrading nature, in clear violation of Northwestern policies and values," Schill wrote in his letter to the Northwestern community.
The former player and whistleblower sent an official statement to Adam Rittenberg from ESPN.
"For me, this has always been about the physical and mental safety of student-athletes," said the former player. "There is still progress to be made in athletics across the country; today is a move in that direction. I am appreciative of those that reviewed the facts that have been presented."
"I was surprised when I learned that the president of Northwestern unilaterally revoked our agreement without any prior notification and subsequently terminated my employment," said Fitzgerald in an official statement he released to ESPN.
Fitzgerald privately addressed the team, which includes his oldest son Jack, during a meeting on Monday evening.
Northwestern Futures Plummet
According to a recent update from DraftKings, Ohio State and Michigan are co-favorites with +175 odds to win the Big Ten Championship this season. Only two other Big Ten teams, Rutgers (+25000) and Indiana (+50000), have longer odds than Northwestern.
Prior to the hazing scandal, Northwestern had +10000 odds to win the conference championship. However, after Fitzgerald's firing, their Big Ten title odds dropped to +20000.
Northwestern, placed in the Big Ten West Division, now holds odds of +10000, making them the biggest long shot in their division.
Oddsmakers had a negative outlook for Northwestern this upcoming season, setting their win total at 3.5 over/under. Within the last 24 hours, the odds have shifted, with -145 odds for betting under 3.5 wins for Northwestern. On the other hand, betting over 3.5 wins for Northwestern offers a prop bet payout of +125.
This hazing incident is the first major scandal to shake the Northwestern campus, located north of Chicago in Evanston, Illinois. The college basketball program at Northwestern was previously involved in a point-shaving scandal in the mid-1990s.