Posted on: May 11, 2023, 03:22h. 
Last updated on: May 11, 2023, 03:36h.
Authorities are continuing to unravel Wednesday afternoon's fatal shooting of an armed pedestrian by an armed motorist near Harry Reid International Airport.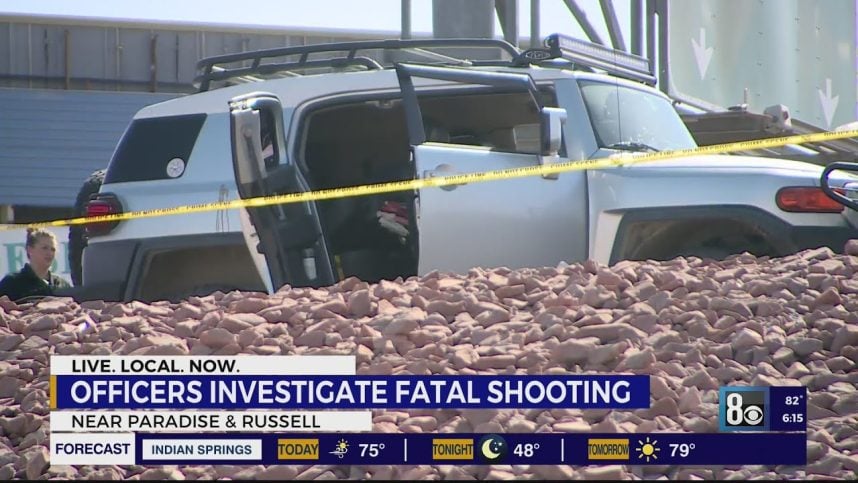 The pedestrian had initially fled from police officers after spraying graffiti in the area, heading toward Paradise Road, north of Russell Road. He approached a silver car there.
The suspect then pulled out his gun in what is believed to be an attempted carjacking.
The car stopped and the driver, who was described as being in his 50s, then shot the suspect twice. The pedestrian fell to the pavement.
Police officers rushed to the silver car and gave first aid to the wounded man.
The man, who is believed to be in his 30s, was quickly rushed to Sunrise Hospital and Medical Center where he was later was declared dead.
Graffiti on Mercedes-Benz
The incident began at about 1:20 p.m. after the alleged carjacker apparently placed graffiti on a white, four-door Mercedes-Benz near Paradise and Russell roads. A short time later, he began spraying paint near Maryland Parkway and Tropicana Avenue.
He then made his way to a wall near University Center Drive and East Hacienda Avenue where police attempted to apprehend him.
When he saw the police, he pulled off his mask and tossed the spray can away before fleeing south on University Center Drive. Officers saw he was holding a firearm.
Police lost sight of the suspect as he made his way to the silver car he then attempted to stop. Neither the driver nor the passenger in the silver car are facing charges as the driver's response appears to be a case of self-defense.
Victims in Car Cooperating with Cops
The pair in the car were described as being "extremely cooperative" with the Las Vegas Metropolitan Police Department (LVMPD) in their investigation. LVMPD officers and detectives are looking for other drivers who might have seen the fleeing suspect point his gun at them while in their cars.
Traffic on Paradise Road was detoured for several hours as police searched for evidence and took statements from witnesses in the incident. The westbound lanes of Russell Road near Maryland Parkway were shut down, too.
Neither the driver nor the passenger were injured during the confrontation. No officers were injured, either.
As of Thursday, police had yet to identify the deceased suspect or the motorist who shot him. The LVMPD Homicide Section has taken over the investigation.
It is unclear as to why the suspect initially fled from police and why he was spray painting graffiti near the airport.